The more than 38,000 professionals (24% international) who have attended the latest edition of Europain, held from January 11 to 14 at Paris Expo Porte de Versailles, have praised both the quality of the exhibition offer and the program of events. The new digital service "Business & International meetings" was used by more than 1,000 exhibitors and visitors to organize 340 business meetings. Likewise, more than 100 products and services (organic ingredients which are more nutritious and with no additives, intuitive management software, connected devices with energy savings, etc.) turned the Fair into an innovation laboratory. This has been expressed by the organization in a statement in which the latest effort that has been used to stop the fall of visitors from previous editions or to maintain the international weight that the event experienced in the past is apparent.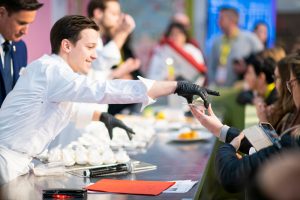 Not in vain this year, the fair has changed its date and stage, moving to the Porte de Versailles congress center, as measures to conjure up the inevitable negative trend. It has also hosted 150 people at conferences, debates and talks organized in the Forum on gluten-free, natural coloring, digital communication, and new bakery, among other topics. Additionally, the Sweet Creations area hosted interesting master classes with chefs such as Michaël Bartocetti, Yann Brys, and Nina Métayer.

At the level of competitions, the fair became the scene of two important competitions. On the one hand, the European Pastry Cup, in which Switzerland, Sweden, and Russia obtained a direct pass to the Coupe du Monde de la Pâtisserie 2021 and which in the end did not have Spanish participation. On the other hand, the Bakery World Cup, which once again went to an Asian country. China came in first place, ahead of Japan and Denmark.