The Swiss team, consisting of pastry chef Jean-Sébastien Guinet and chocolate specialist Nicoll Notter, has won the latest edition of the European Pastry Cup, held this January in Europain Paris. Sweden has achieved second place, in addition to the eco responsible prize, and Russia came in third. These three countries thus get a direct pass to the final of the Coupe du Monde de la Pâtisserie, which will take place in 2021 in Lyon. Ukraine, the fourth participating country, is out of the classification for next year's final.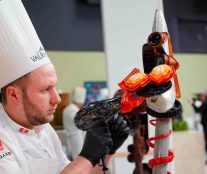 For five hours, the four teams made creations of free composition of chocolate and artistic sugar, ice cream desserts, and plated chocolate desserts made using one honey plant (cornflower, eucalyptus, everlasting flower, lime tree, lavender, mint, poppy, rosemary, sage or wild thyme), in line with the natural and committed pastry that the World Cup wants to promote.

The teams were evaluated by a distinguished international jury, chaired by Pierre Hermé (president of the Coupe du Monde de la Pâtisserie) and Jessica Préalpato (honorary president of the European Pastry Cup), and formed by Konstantin Romanov (Romanov Pastry, Moscow) , Patrick Bovon (Le Duo créatif Pâtisserie Fine, La Tour de Peilz, Switzerland), Jesper Johansson (Gourmet Service, Skara, Sweden), and Marina Ivanchenko (Sweet World School, Kiev, Ukraine).