Until February 4, the New York City Valrhona Hot Chocolate Festival is taking place, an ideal event to combat low temperatures and collaborate with a good cause. Ten pastry shops and bakeries have created delicious hot chocolates for the occasion. For each cup sold, $ 0.50 will be donated to C-CAP's "Job Training Program".
Here we share the hot chocolate recipes from Dominique Ansel Kitchen, Petrossian Bakery, and Patisserie Chanson.
Photos: Alexandre Ayer
1. Chef's Hot Chocolate with Chocolate Whipped Cream. Dominique Ansel Kitchen from chef Dominique Ansel
For the Hot Chocolate mix
142 g Valrhona Satilia 62% Chocolate
18 g Valrhona Guanaja 70% Dark Chocolate
1 qt whole milk
2 tbsp condensed milk
1 tbsp sugar
1 vanilla bean, split and scraped
In a pot, bring the milk to a simmer over medium heat.
Combine the Valrhona Satilia and Guanaja chocolate, condensed milk, sugar and vanilla bean seeds in a medium pot. Pour in ½ of the hot milk and whisk until smooth. Pour in the other ½ of the hot milk and continue whisking until smooth.
Pour into a cup and top with a dollop of Chocolate Whipped Cream (recipe below).
For the Chocolate Whipped Cream
½ cup Hot Chocolate mix, chilled
½ cup heavy cream
In a bowl, whisk together ½ cup of chilled hot chocolate mix and ½ cup of cold heavy cream until soft peaks form. (TIP: It's important that the hot chocolate mix used here is fully chilled; otherwise it won't become fluffy whipped cream when whisked together with the heavy cream!).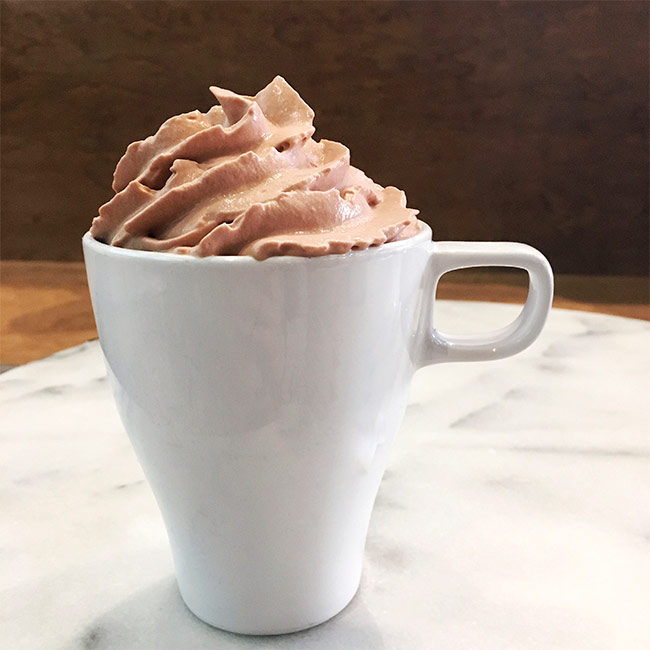 2. Praline Moss. Petrossian Bakery from Chef Francois Behuet
1 liter heavy cream
1 liter milk
600 g Guanaja 70%
1 chunk Valrhona Praline Moss
1 egg white
Combine and slowly warm the heavy cream and the milk. Then add the Guanaja 70% to the mixture and stir slowly for 30 minutes to one hour. In a separate container, mix the praline moss with one egg white for the whipped cream. Heat in the microwave for 45 seconds and cut into small pieces. Top the hot chocolate with small moss praline.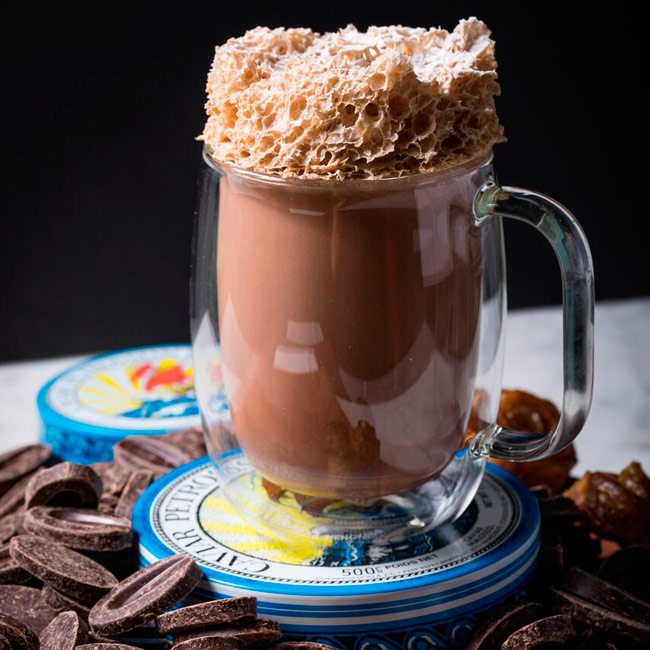 3. Sesame Noir Hot Chocolate. Patisserie Chanson by Chef Rory Macdonald
110 g Valrhona 65% Manjari Chocolate
110 g Valrhona Bahibe 36% Milk Chocolate
100 g milk
115 g Japanese Black Sesame paste (Mahuron Brand – Jun Nerigoma Kuro)
1.150 g whole milk
Salt to taste
Heat 100g Milk to just below boiling.
Combine both chocolates, make a well in the middle, gradually start streaming the milk whilst mixing clockwise, the chocolate should be smooth, glossy and emulsified.
Add in Black Sesame paste, and blend with a hand blender until fully incorporated and has no lumps.
Steam the milk in a metal jug, gradually adding the Sesame ganache until a thick, but smooth consistency is achieved. Season with salt to bring out the sesame and chocolate flavors.
Serve.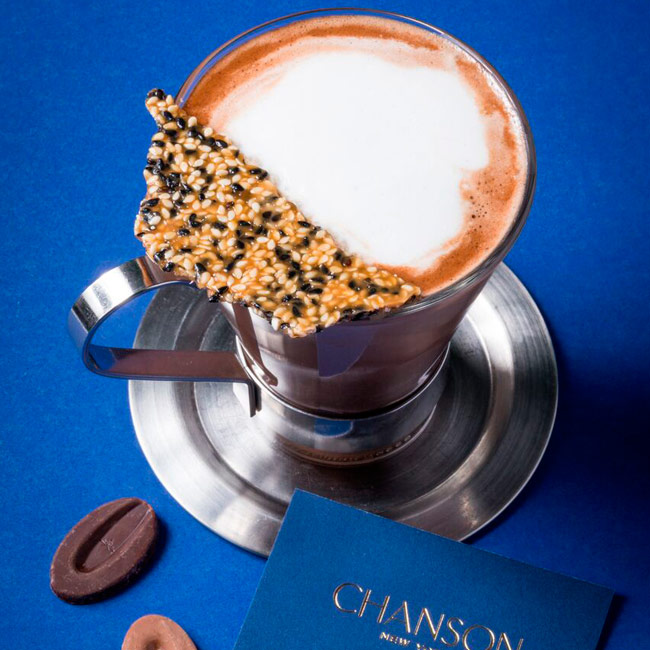 These seven other hot chocolates can also be tasted at the festival.