In so good.. magazine #30 it occurred to us a crazy challenge: defy mixology and pastry to compete against each other.
Specifically, the famous mixologist Yelena Anter, based in Las Vegas, had to turn the three classic desserts proposed by the chocolatier Luis Amado into three cocktails. In the same way, Amado had to translate three classic cocktails chosen by Anter into the world of chocolate and pastry.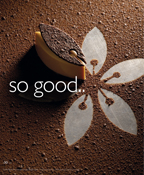 Yelena Anter's proposal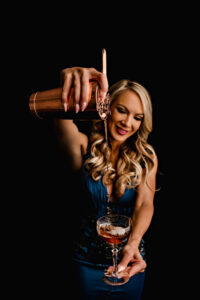 Yelena Anter grew up in a small town in Russia eavesdropping on Elvis Presley records that her parents had smuggled in, 'those records sparked a fire within me – a burning passion to escape the shackles of life in Russia and pursue my dreams in the land of the free… at just 19 years old, with nothing more to my name than a suitcase full of dreams and a head full of Elvis lyrics, I made the journey to America – a journey that has been nothing short of extraordinary', recalls Yelena Anter, recognized mixologist and protagonist of this 'so good.. challenge'.
'Just look pretty, sell as many frozen drinks as possible, and sell an extra shot or two of booze.' That is verbatim what her boss instructed her and that is how her mixology journey began, 'like all great things, in sleazy obscurity. At the age of twenty one, I was hired as a bartender for a daiquiri bar on The Las Vegas Strip. Originally from a small village in Russia, I had no clue what comprised a Rum and Coke or Gin and Tonic, except perhaps the Coke. I was strong even in high heels, carrying as many drinks as would fit onto two trays at once. It fascinated me how different a blue, red or yellow slushy tasted, depending on what spirit was added to it', she explains.
In these pages, she tells us about the good times she is having in her profession, details what the perfect cocktails is like and explains the many similarities with haute patisserie.
Crêpe Suzette Cocktail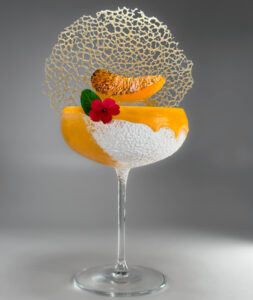 Translating the classic French Crêpe Suzette into a craft cocktail was a true labor of love, requiring a delicate balance of sweet and tart flavors that dance together like twirling dancers. The key to recreating the essence of Crêpe Suzette in a cocktail is to incorporate elements that evoke the flavors of the dessert itself. My approach to this mixological challenge involved playing with the essences of Crêpe Suzette in the form of a syrup, combining the richness of butter, brown sugar, fresh orange juice and zest, and of course a touch of beloved Grand Marnier to create a sweet, tangy, tantalizing flavor experience. Incorporating this with Cognac, fresh orange juice and a splash of lemon juice to balance the sweetness, captures the spirit of Crêpe Suzette in liquid form. To create a vibrant color, exotic presentation, and bright flavor, I am using Orange Rimlicks on the rim of the glass with a touch of powdered sugar. This masterpiece is finished with a brûléed orange segment and an intricate Crêpe Suzette tuile to complete the intricate aesthetic.
Poire Belle Helene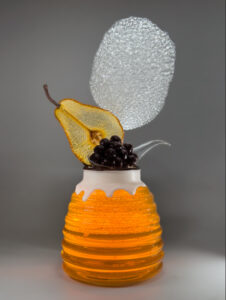 Turning Poire Belle Helene into a cocktail is a creative endeavor that requires precision and finesse. To capture the essence of this iconic dessert in a visually stunning and delicious cocktail that tantalizes the senses, I begin with a rich poached pear syrup that serves as the backbone of the drink. A combination of pear ear-da-vie, chocolate liqueur, a hint of vanilla, and absinthe creates a delectable mix that tastes like a sophisticated dessert in a glass. The presentation is just as important as the flavor, with the cocktail dazzling the eyes as well as the palate. A Chocolate Air Cloud resembles the whipped cream of the original dish. Adding kiss of Vanilla Rimlicks and a spoonful of chocolate Pearls, and finishing with a Pear Glass masterpiece, creates a lasting impression. My cocktail interpretation breathes new life into this traditional dessert that has been enjoyed for centuries.
Cherry Clafoutis Cocktail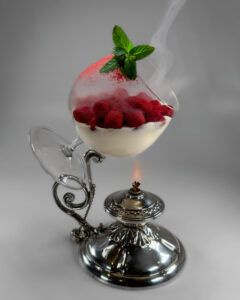 Interpreting a classic pastry dessert, such as Cherry Clafoutis, into a craft cocktail is a truly challenging and exciting experience that combines the worlds of pastry and mixology into one delicious concoction. To create this Clafoutis-inspired cocktail, I started with a lusciously creamy base, consisting of heavy cream, brown sugar, egg yolks, vanilla, almond, and nutmeg. These flavors add a touch of romance and sensuousness to the drink, invoking the feelings of love and joy that come with indulging in this classic dessert. To create unforgettable complexity and depth, I added a touch of aged rum, cherry brandy and amaro. I serve this cocktail warm, creating a feeling of comfort and coziness. And of course, it would not be a Cherry Clafoutis without a delicious and colorful cherry component! Thus, I created tart cherry marshmallows for flavor as well as visual effect. Floating on top of the cocktail, they tie all the ingredients together in perfect harmony, creating a complex, layered flavor profile that excites the eye and delights the senses.
Discover the complete interview and the recipes for the three Yelena Anter desserts that can be drink in so good #30