As Eric Ortuño shows in his book Break!, there are countless biscuits and pastries -sables, cookies, crocants, biscuits, carquinyolis, wafers, speculoos, baklavas, linzer, Russian cigarettes, grissines, tuiles- perfect for taking a break and accompanied by a cup of tea. Like Henry James said, "there are few hours in life more pleasant than that hour dedicated to the ceremony known as Afternoon tea".

But what is the origin of Afternoon Tea? What kind of tea is the most recommended? What is the best way to prepare it? Below we delve into the ins and outs of the afternoon tea tradition with specialist Sans & Sans from Barcelona (Spain). Eric Ortuño and Salvador Sans form a collaborative team that has many expressions at L'Atelier de Barcelona and that we were able to enjoy first-hand during the presentation of the pastry chef's monographic book. Now is the time to give voice to Alexandra Witty and Salvador Sans from Sans & Sans to learn about the origins and evolution of the custom of enjoying a mid-afternoon snack accompanied by a good cup of tea.

Discover Break! by Eric Ortuño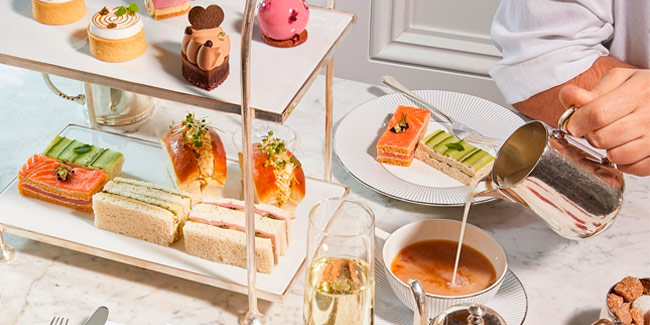 The tradition of 'afternoon tea'

Text: Alexandra Witty, director of Sans & Sans and Tea Sommelier for the International Tea Masters Association (ITMA), and Salvador Sans, owner of Sans & Sans and tea taster.

Perhaps due to their daily presence in our lives, today we may not have an idea of ​​how the three quintessential hot and caffeinated beverages -tea, coffee, and cocoa- changed not only our eating habits, but also how they decisively influenced thought, economy, customs, health, and culture of our western society.

Tea, an ancient drink discovered in China, made its first appearance in Europe in the 17th century. In the 19th century, its consumption in Great Britain began to increase considerably, but it was still very expensive. Among the upper classes, it was the only item customarily prepared in the dining room or drawing room by the lady of the house. The tea box (Tea caddy) was locked and the key was kept by the owner. Tea was the hallmark of a family's elegance and wealth, not to mention all the elegant fixtures and fittings for its preparation: the fine china, silver teapots, tin urns, and specially designed rosewood tables (teapoys) to serve it on.

In the late 1850s, there were frequent lunches to discuss politics and economics, hosted by influential young men to impress the stuffy and conservative British business sector. As a consequence, a long time would pass between meals and wives had to wait hours for their husbands to come home for dinner, which was served at 8:00 p.m. at the time. Anna Russell, 7th Duchess of Bedford, surely hungry, asked her servant to serve her a snack, a tray with tea, bread and butter and a slice of cake in her room towards the end of the afternoon. She liked it so much that it ended up becoming a habit for her and she thought of inviting her friends to join her. High tea and the pleasure of company made Afternoon Tea fashionable among High Society as a social, cultural, and tasteful event, becoming one of the epitomes of British culture of the Victorian and Edwardian era.

Lady Frederick mentions in her diary in 1866 that ladies met and discussed "tea matters" – the equivalent of men's discussions of politics – thus giving women a space in society to express their views on politics and other issues that they did not usually share publicly in the company of men. During the 1880s, women of high society dressed elegantly for the occasion with dressing gowns, gloves, and hats for afternoon tea, which was usually served in the drawing room between 4:00 p.m. and 5:00 p.m.

Always using black tea leaves to prepare the drink, with the addition of a cloud of cold milk, the Afternoon Tea is traditionally presented accompanied by a selection of sandwiches (invented by John Montagu, IV Earl of Sandwich), where the bread must be cut into thin slices with bacon, egg, or cream cheese and watercress and the traditional cucumber. Traditional scones with cream, cakes, and biscuits are also served.

Nowadays Afternoon tea, back in fashion, can be enjoyed in some of the best hotels in the world and in particular in legendary spaces in London such as the Ritz and the Brown's, The Dorchester, Claridges, and in elegant tea rooms such as in Harrods and the popular Fortnum & Mason, and also in other cities in Great Britain.

What tea should be used for the Afternoon Tea?
Although there are different varieties of manufactured tea (black, green, yellow, white, oolong and pu-erh) and a large number of specialty teas can be found, the type of tea traditionally served in the Afternoon tea was always black from India: Assam (strong) and Darjeeling (softer) or from Ceylon -today Sri Lanka-, and mixtures were also made with teas that arrived from the colonies. Currently, black teas of other origins are also used. In China, black teas, also known as Hong Cha, are produced in Yunnan, Fujian, Anhui (the renowned keemun), Guangdong, Hunan, and Sichuan, which are milder and not astringent. In Africa (Kenya), black tea is strong and fruity. In Japan, a country renowned for the production of green teas, there is also black tea (Wakocha) in small quantities in the Kirishima region, although it has a different flavor, it is smooth and sweet and is drunk alone, without adding milk.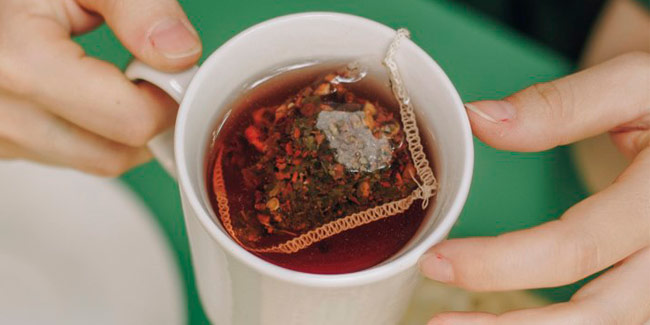 What is needed to prepare a good cup of tea?
black tea
Mineral water
A porcelain or silver teapot with an internal or loose strainer
cups with saucer
Thermometer
timer
1 small pitcher of cold milk
3-5 g of leaves per 170 ml of water
The tea is served in a pot and the preparation of the infusion is key to a good tasting.
First you have to preheat the kettle with hot water. Once removed, the leaves are placed inside and covered so that the same heat prepares them to receive their water baptism. While bringing the water almost to the boiling point, carefully pour it over the leaves. You have to stir gently so that all the leaves are well soaked and left to infuse for 3 to 5 minutes, depending on the type of leaves (whole or broken) and the taste of each one. After this time, remove the leaves and serve. Traditionally it was customary to put a cloud of milk first in the cups, as they were made of very fine porcelain and could break if the tea was put that hot first. The sugar that was used then was in the form of lumps and were picked up with tongs. Etiquette rules dictated that the host serve tea and food in an elegant manner.

Without a doubt, tea is much more than a drink, more than a food. It has given rise to various preparation ceremonies, both in producing and consuming countries (Gong fu Cha in China, Chanoyu in Japan, Afternoon tea in England). It has been and is inspiring art and artists. It has been associated with religious practices (Zen and Taoism) and has lit the fuse of revolutions that have changed the world.

Paraphrasing Hemingway when he spoke about wine, we affirm that "Tea is one of the most civilized things that exists".