After the sales success of the book The Pastry Alphabet with basic recipes to master French pastry, Cacao Barry is now launching The Cacao Alphabet, in limited edition. Available in English, it is a complete guide to mastering all things cocoa powder that you can buy at a discount at Books For Chefs during Book Week (April 21-24).
To carry out this work, the creative director Ramon Morató, the team of chefs from Cacao Barry and the Chocolate Academy, and experts in cocoa Research and Development (Ciro Fraddanno, Philippe Marand, Ramon Morato, Lauren Van Haas, Julie Sharp, Dimitri Fayard, Martin Diez and Mark Tilling) have carried out more than 450 tests in order to help pastry chefs select the most suitable cocoa powder for different basic recipes. How does the fat content of the cocoa powder influence the recipe? How do you make perfect French chocolate macarons? How can you prevent cocoa powder from getting wet in tiramisu? These are just some of the many answers that the reader will find within its almost 170 pages.

The first part of the book is dedicated to theory, which is very necessary in a product that is still unknown to most chefs. Here, in addition to explaining the difference between cacao and cocoa powder, he details how to pick the right cacao powder for a particular recipe based on eight parameters: flavor, color, fat content, ph, reaction with leavening agents, fineness, and dispersibility.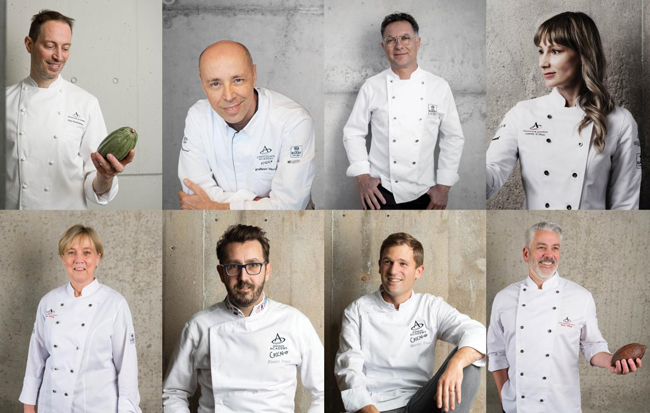 Recipes divided into six categories

One of the great attractions of The Cacao Alphabet are the 48 key pastry recipes, each one adjusted for each cacao powder, for a total of 384 variants. But not because of the number itself, but because of its great level of detail. Each one of them is illustrated with photographs and a description of the most suitable powder, uses, tips, scientific recommendations, storage recommendations, allergens, and dietary needs.
The recipes are divided into six main blocks:

Biscuits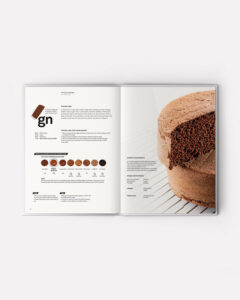 This section is organized into two subcategories:
Whisked sponge cakes: recipes involve some type of whipped mixtures of whole eggs, egg whites or yolks, combined with other ingredients. In this family of products there are classics such as Génoise, Dacquoise, or Joconde.
Butter cakes: also called butter or oil cakes, this is a range of cakes without whisking the eggs. Here we find Brownies, Muffins, Financiers, and Madeleines.
Drinks
The most popular basic drinks made with pure cacao powder: hot chocolate, smoothie, and thick hot chocolate.

Creams & Mousses
The main cacao-based recipes used by pastry chefs: "Pâte à bombe" mousse, Buttercream, Cacao Chantilly, Pastry Cream and Siphon whipped cream.

Glaces & Sorbets
The fundamentals of ice cream and sorbets made with cacao powders, as well as the differences between each basic recipe.

Pâtes
Collection of recipes to make the most essential pastry and pâtisserie doughs. Products that serve as the basis for different types of cakes, providing their characteristic flavor and a more or less airy, crunchy, or sandy texture.

Others
This chapter includes Cacao spray, shiny mirror glaze, Hazelnut and cocoa powder spread, and Cacao powder sprinkle.
Some details of The Cacao Alphabet
48 key pastry recipes for a total of 384 variants
A full reviews of Cacao Barry's new collection of eight cocoa powders
Tips & inspirations
Recipes divided into biscuits, drinks, crèmes & mousses, glazes & sorbets, pâtes, others