In the new book, The Pastry Alphabet, the chefs of Cacao Barry offer a complete and reliable guide of basic recipes, evaluated and certified by themselves, to master the art of French pastry. Available in our online store, Books for Chefs, in Spanish, English and French, it aims to help professional pastry chefs to continue exceeding the limits of flavor and enhance creativity.

To develop creativity, it is necessary to master the basics. This is the starting point of The Pastry Alphabet, which begins with an interesting analysis about chocolate (definition, how to choose a chocolate, where the flavors come from, useful information, and easy tricks to work with it) and is structured in four blocks.
In this project, Biscuits are organized into two broad categories:
Mounted biscuits: recipes with an egg-based batter, whites or yolks, and which is combined with other ingredients. In this family of products you can find great classics such as the Cuchara cake, Dacquoise, Joconde, Pain de Gênes, Sacher, etc.

Biscuits which are not mounted: also called fatty Biscuits, it is the family of Biscuits in which there is no egg-based ingredient that has been beaten. Brownies, muffins, financiers, madeleines, … are the basis for making products that can serve as a basis for some assemblies or be directly exposed to room temperature.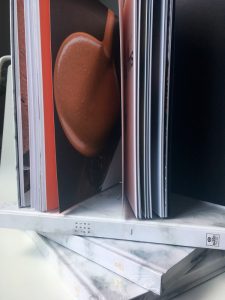 The main recipes used in pastry for the assembly of cakes and small cakes. Recipes with different textures to cover the different needs, from ganaches with a firm texture for a more general use to ultra tender ganaches with a special texture for filling macarons, creamy, mounted ganaches, pastry creams, and three types of chocolate mousse.

The glazes have been organized in two large sections:
Glazes for products exposed to room temperature. Glazes for cakes, madeleines, donuts, etc. In this case, a basic recipe is proposed that Cacao Barry has adapted according to the different chocolates in its range so that the reader can choose the chocolate they like best for their creations.
Glazes for products exposed to freezing or positive cold. Glazes for products that will be exposed in a showcase at a temperature of 0 to 6 ° C and eventually freezing at -18 ° C, as is the case with entremets and petits gateaux.

A collection of recipes with the most essential pastes and doughs in pastry. Products that serve as the basis for the different types of cake assemblies, providing their characteristic flavor and a more or less airy, crunchy, or sandy texture.
Inside each block, the reader will find different recipes illustrated with photographs and with a detailed description regarding uses, tricks, conservation, allergens and, in some cases, scientific explanation.
With a progressive approach, the book is a product of LAB, the creative department of Cacao Barry directed by Ramon Morató. Dedicated to research and innovation in pastry, exploring and sharing new products, techniques and trends through different inspiring projects.