We met Yohan Ferrant in 2017 when he had just assumed the position of director of the Baking School Barcelona Sabadell, the school of the Guild of Bakers in the province of Barcelona, ​​the previous year. We could already tell that training in bakery could take a great qualitative leap from the hand of this French professional, having gained experiences in Paris, London, and North Africa. And we were not wrong. Thanks to his passion and his nonconformity, many top international professionals have passed through the classrooms of this Catalan school.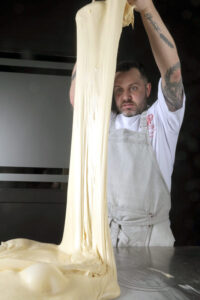 Apart from promoting professional training, this baker has also done a lot to popularize both the use of sourdoughs and flours made from ancient and terroir wheats. Ferrant is synonymous with not only passion for the transmission of knowledge, but also passion for the trade.

All his background and contributions encouraged us to launch an ambitious publishing project in 2020. A book that not only brings together his particular way of understanding the trade, but also serves as a manual for professionals who seek to go in-depth into the world of doughs in a practical and pragmatic way. After two years of work, Grupo Vilbo today releases Oh Là Là!, a much-needed book that can help reclaim the trade and become a useful tool in any school and workshop, generous both in its recipes and in the step-by-step instructions.

The book, now available in a bilingual format (Spanish and English) in our Books For Chefs online bookstore, in addition to reviewing the ingredients and fundamental aspects of bread making such as base temperature or cooking, details the step-by-step and recipes for 25 breads divided into four sections: commercial, with added nutritional value, decorative, and terroir / special. Oh la la! also includes chapters dedicated to panettone, brioche, and puff pastry, since "bread is highly prized, but the totality of the trade rarely is. The baker has a lot more arrows in his bow! When I go into a bakery, I judge its bread and also its pastries", says Ferrant.