Bread.Art.Works, the new book by Ireks, proposes utensils, techniques, and more than 40 recipe ideas to turn bread into works of art in just a few steps. Signed by the German master baker Tommy Lebe alongside the group's technical team, it is a great help to give preparations a personal touch, achieve a real differential factor, and make the display stand out. Either in the shape of a bull's head or a maple leaf, a bread can become the centerpiece of the bakery without having to spend much time or effort.

Available in our online bookstore Books For Chefs in a bilingual version (Spanish and English), this book is intended to "convey how easy it can be to make extraordinary decorative breads using a variety of techniques and basic recipes," says Lebe, adding that "every baker is familiar with decorative breads, traditional display pieces that are time consuming and nothing more than window dressing with little commercial viability. This is how we came up with the idea of giving a new life to decorative breads".

Throughout more than 200 pages, Bread.Art.Works includes graphics, numerous images of both the products made and the production process, and short and concise texts. We review its main chapters below:

Utensils
The number of tools to cut and process the dough is very extensive. In this section, Ireks offers an overview of general and cutting utensils, baking molds, linens, and stencils.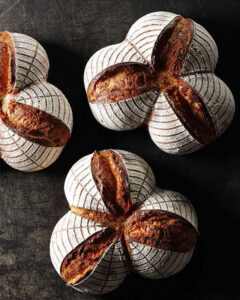 Decorative bread techniques
To achieve decorative breads, apart from the appropriate utensils, it is necessary to use different techniques. In addition to different fermentation processes, the book presents a wide variety of possibilities, from cutting and marking techniques to the use of toppings.

Presentation
After preparation, it is important to attract the attention of customers. For this reason, the book also dedicates a few pages to talking about the importance of using advertising materials as a claim and sharing on social networks.
Recipe ideas
In this chapter the reader will realize that the range of possibilities in decorative breads is almost infinite. A forty recipes divided into wheat and rye breads, rye and wheat breads, wheat breads, bars and special breads such as berry, pumpkin seed, and tiger bark with cocoa and hazelnut.