If there are two names that are increasingly on everyone's lips in the professional pastry and bakery field, those names would be Antonio Bachour and Yohan Ferrant. Two chefs who have also just individually launched new books published by Books For Chefs: Oh Là Là! and Bachour Buffets, which are destined to be two great published sensations for the professional this 2022.

Buffets by Antonio Bachour. Incombustible

Antonio Bachour continues adding projects to his successful and meteoric career. Twice named Best Pastry Chef in the World, in recent months he has landed in Mexico with three new gastronomic concepts, presented the second edition of his successful work Bachour Gastro, and on November 25 he launches his seventh and most personal book: Bachour Buffets.

"Bachour Buffets is my pastry and it is 100% me"

Available in our Books For Chefs online bookstore, Bachour Buffets is a bilingual book (Spanish and English) where the popular chef shows the pastry he makes daily and the one he teaches in his courses all over the world through 74 unpublished recipes spread over five chapters, each dedicated to a themed buffet: croissant and brioche, entremets and petit gâteaux, fruits and vegetables, chocolate, and petit fours. Without a doubt, it is his great work, his great legacy.
Bachour Buffets can be purchased at a reduced price if purchased in a pack together with Bachour Gastro or with so good.. magazine #28 during the Books For Chefs Black Friday campaign, from November 25 to 28.
Oh La La! by Yohan Ferrant. Discipline and Creativity
The director of the Baking School Barcelona Sabadell (school of the Bakers Guild of the province of Barcelona) has not only made a qualitative leap in bakery training in our country, but has also done a lot to popularize both the use of the sourdoughs and the flours of ancient wheats and terroir.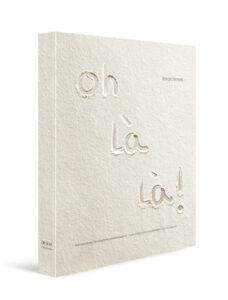 This 2022, Grupo Vilbo has captured his particular way of understanding the trade in Oh Là Là!, a bilingual (Spanish and English) bakery and pastry manual which is essential for delving into the world of doughs in a practical and pragmatic way.
"Oh! Là Là is designed to be a frequently consulted manual which gets dirty in the workshop"

Available at Books For Chefs, Ferrant's first book has recipes and step-by-step instructions for 45 products, as well as essential tips and reflections. As he himself explains, "it is the reflection of a career that has taken me to travel around the world and learn about very different methodologies."
Oh La La! can be purchased signed (first 50 copies) and at a reduced price during the Books For Chefs Black Friday campaign, from November 25 to 28.