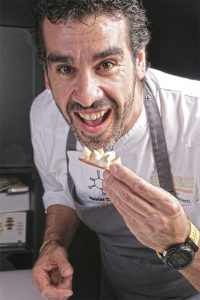 Although it is obvious, a lemon ice cream is not the same as a frozen lemon. Newer generations may not know that the latter was the true king of desserts in Spain back in the 1980s. If we put aside nostalgia, that frozen lemon was, to put it generously, a not very refined dessert. The skin of the fruit was simply frozen and was filled with a kind of unbreakable sorbet for a normal spoon.
In Dulcypas, our Spanish pastry magazine, Jose Romero, professor at the School of Pastry of Barcelona (EPGB), rescues that mythical dessert from memory to renew it and turn it into a true pastry delicacy. In the new frozen lemon, the skin is confit and filled with a well-balanced ice cream. And it is presented in attractive segments topped by a candied lemon nugget.
Continuing our journey among lemons, we find an ingenious travel dessert. It is indeed for traveling as it is presented packed in a box. Inside, the recipient will find the three elements of a classic Lemon Pie in three nice bags: the cookie, the cream and the meringue. The set also includes a cardboard tray and two wooden spoons for tasting.
Travel lemon pie
Lemon cream
2 eggs
100 g sugar
100 g organic lemon juice
2 jelly sheets
130 g room temperature butter
Start by hydrating the gelatin leaves in cold water. Mix the eggs with the sugar. Tempr over heat and add the lemon juice. Cook at 85 ° C. At 50 ° C, incorporate the previously hydrated and drained gelatin. At 40 ° C, add the butter little by little, homogenizing with the mixer. At 30 ° C add one part of Swiss meringue for two parts of lemon cream and add 30% of lemon pulp confit of the lemons for the weight of the lemon cream.
---
Swiss meringue
200 g powdered sugar
100 g egg white
40 g organic lemon juice
zest of half a lemon
Heat the egg whites and sugar at 50 ° C. Mount with rods and once half mounted, add the lemon juice and then the lemon zest. Put and let dry in a heat stove or dehydrator at 50ºC for 24 hours. Once dry, flame them with a blowtorch and arrange them in the travel bags.
---
Hazelnut sablé
240 g butter
60 g hazelnut flour
4 g salt
160 g powdered sugar
90 g eggs
435 g all-purpose flour
Mix the dry ingredients, add the eggs, and slowly add the diced and cold butter. Let stand, laminate into 3 mm and cut into a leaf. Cook at 160ºC for 12 to 15 minutes or until the cookie is golden brown and dry.
---
Assembly
Remove the ingredients from the bags and assemble the lemon pie, with the cookie in the base, on top of the lemon cream and on top the Swiss meringue peaks.