Photos: Jose Lasheras
At this point, identifying William Curley as one of the most prominent pastry chefs in the UK is not an exaggeration. His establishments in London have become a temptation for the general public, firstly thanks to his bonbons and bars of chocolate, awarded multiple times by the English Academy of Chocolate, and secondly due to a purely French patisserie style whose followers continue to grow daily. Additional proof of this is his second book presented a few months ago with a name that does not leave much to the imagination: Pâtisserie.
Trained in France in such distinguished workshops as Fauchon when Pierre Hermé was there, another one of his main influences and mentors is Raymond Blanc at Le Manoir (Belmond, United Kingdom). Highlighted from his style is the wisdom to perfectly connect tradition, technique and updates to the classics. With an eye on the roots of the tradition, William Curley revisits école française standards with a comprehensive knowledge basis and a sensitive and colorful outlook. In large part, his partner, Suzue Curley, of Japanese origin, has also collaborated in this renewal and with whom he shares a passion and mastery for this trade.
He will be one of the protagonists of the next edition of So Good, number 14. Now we leave you with this interesting step-by-step recipe for the creation of a raspberry and champagne jelly from his book, Pâtisserie. This jelly is part of a cake that he himself presents:
"I created this entremet for the Master of Culinary Arts award in 2013. It was well received, using classic techniques to create a contemporary design. The flavours were influenced by Pierre Hermé's famous combination of rose, raspberry and lychee. Since the days of Pierre Hermé at Fauchon in Paris, I have always been inspired by his creations".
William Curley
Raspberry and Rose Entremet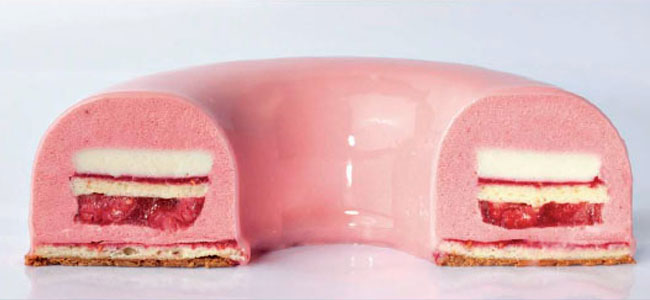 ---
for the rose infusion:
150 g (5 ½ oz/ ¾ cup) caster (superfine) sugar
250 ml (8 ½ fl oz/1 cup) water
2 vanilla pods (beans) split and scraped
50 dried rose buds
To make the infusion: put the sugar, water and vanilla seeds and pod (bean) in a saucepan, bring to the boil and add the rose buds. (1) Cover with cling film (plastic wrap) and leave to infuse for an hour.

---
for the champagne & rose jelly:
12 fresh raspberries halved
75 ml (2fl oz/generous ¼ cup) rose infusion (see above)
5 g (1⁄8 oz) leaf gelatine
150 ml (¼ pint/scant ½ cup) rose champagne
Line the base of the other ring mould with the halved raspberries. Strain the rose infusion, then prepare the jelly. Soak the gelatine in a bowl of ice-cold water for a few minutes until soft. Squeeze the gelatine to remove excess water Put 75ml (3fl oz) of the rose infusion in a pan and bring to the boil. Add the soaked gelatine, then mix in the champagne. Pour into a jug and pour over the raspberries, just covering them. Freeze for at least 2–3 hours.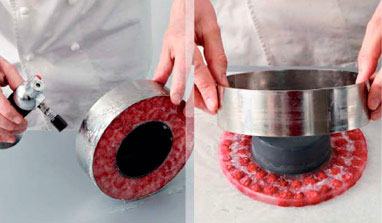 ---
lytchee cream
2 g leaf gelatine
110 g fruit puré made with lychees
35 ml lime juice
200 g whole eggs
80 g caster (superfine) sugar
85 g unsalted butter
Soak the gelatine in a bowl of ice-cold water for a few minutes until soft. Squeeze the gelatine to remove excess water. Use the rest of the ingredients to make the curd following the instructions on page 96, but add the soaked gelatine just prior to adding the butter. Spoon the curd into a jug and pour 150g (5 ½ oz) of it into one of the rings around the ramekin.  Freeze for 2 hours.
---
praliné feuillantine
75 g milk chocolate (35% cocoa solids) chopped
15 g  cocoa butter
60 g praline paste
65 g feuillantine wafer
raspberry compote
15 g caster sugar
5 g pectine
100 g raspberry purée
100 g whole raspberries
raspberry mousse
11 g leaf gelatine
500 ml whipped cream
350 g raspberry purée
80 g caster sugar
raspberry glaze
15 g leaf gelatine
210 ml raspberry purée (strained with a rag)
105 g caster sugar
210 g liquid glucose
140 g double cream
210 g white chocolate finely chopped
champagne and rose syrup
150 ml rose infusion (see above)
200 ml rose champagne
---
pain de Gène
75 g whole eggs
60 g egg yolks (about 3 eggs)
112 g ground almonds
112 g icing (powdered) sugar
75 g unsalted butter
60 g plain (all-purpose) flour sifted
90 g egg whites (about 3 eggs)
52 g caster (superfine) sugar
Preheat the oven to 190C (375F/Gas 5) and line two 30 x 40cm (12 x 16 inch) baking trays (sheets) with silicone paper (you could also use a non-stick baking mat of the same size). Put the whole eggs and egg yolks, ground almonds and icing (powdered) sugar together in a mixing bowl and beat together for 10–12 minutes until the mixture is light and aerated. Melt the butter (ensuring it is not to warm). Fold the flour into the egg mixture and mix. Put the egg whites and caster (superfine) sugar in a clean, sterilized bowl and whisk to a firm meringue (see page 29). Alternatively, whisk in an electric mixer fitted with a whisk attachment or by hand. When the flour is three-quarters folded through, take 2 large scoops of the mixture and add it to the melted butter. Add the butter mixture back into the base mixture and continue to fold through. Mix until the mixture is incorporated and smooth. Fold the meringue into the base mixture and mix until combined. Spread onto the prepared baking trays (sheets). Bake in the preheated oven for 12–15 minutes until golden brown and the sponge springs back when pressed gently. Ideally use immediately or freeze for up to 1 month.
These recipes belong to his book Pâtisserie

You will find at so good #14 these two creations by William Curley: