One of the protagonists of so good # 24, the Japanese pastry chef Akihiro Kakimoto, who ranked fourth in the World Chocolate Master 2018, fulfilled one of his dreams in 2019 when he opened Henare, a restaurant where he offers cooking called "obanzai" in the Kyoto dialect .
As a complement to the article that we dedicate to him in our magazine, we share the recipe from The Future Museum that he serves in Henare. A glass of dessert with warm grapefruit sauce. He thinks that something with strong or pungent flavors go very well with chocolate, and celery is one such ingredient. Another surprising flavor in the dessert is dill. Although dill is not a familiar herb for the Japanese and often used in savory dishes, those who taste it always say "wow, what is it?" and enjoy it very much.
Photos: Noriko Carlow – Contents: Reiko Matsuno
Future Museum
Celery Cream
50 g celery juice
15 g granulated sugar
50 g egg yolk
1 u gelatin
250 g fresh cream (45%)
2 g celery powder
Boil the celery juice and granulated sugar and combine it with the egg yolks. Beat until the temperature lowers to 73℃. Hydrate and melt the gelatin and add to the mixture. Fold the whipped cream and celery powder into the egg yolk mixture.
---
Caramel Chocolate Custard Cream
30 g granulated sugar
30 g fresh cream(35%)
150 g milk
36 g egg yolk
9 g cake flour
36 g butter
72 g Or Noir(47.2%) milk chocolate
Caramelize the granulated sugar and add the fresh cream. Remove from the heat and add milk. In another bowl, mix egg yolks and cake flour well and add the caramel into it. Transfer the mixture in a saucepan and make custard cream. Remove from the heat, add butter and chocolate, and emulsify.
---
Caramel Ice Cream
50 g granulated sugar
120 g fresh cream(38%)
500 g milk
25 g trehalose
20 g stabilizer
1 g salt
1 u vanilla bean
160 g egg yolk
Caramelize the granulated sugar and add the fresh cream. Add the milk, trehalose, stabilizer, salt and vanilla seeds and bring it to a boil. Add egg yolks and transfer to a saucepan to cook crème anglaise. Churn in the ice cream machine. Pour into the hemisphere molds with 3cm diameter and freeze.
---
Streusel Cacao
100 g butter
100 g granulated sugar
100 g almond powder
90 g cake flour
10 g cocoa powder
Beat the butter in the mixer until it gets tender. Add the granulated sugar and mix well. Add the almond powder and cake flour and mix well to form a ball. Sheet the dough into 10mm thick. Pass through a strainer with 5mm-wide mesh. Bake at 170℃ for 15 minutes.
---
Tuile Chocolat
30 g butter
30 g water
50 g granulated sugar
3 g cocoa powder
13 g cake flour, sifted
Heat the water, add the rest of the ingredients and mix well. Spread the dough over a silicon ma.Bake at 170℃ for 17 minutes. Crush it when it's cold.
---
Garniture Pamplemousse
100 g grapefruit puree
40 g granulated sugar
6 g butter
20 g granulated sugar
1/4 g grapefruit
5 g gin
1/4 g grapefruit zest
Caramelize 40g of granulated sugar and add grapefruit puree. All ingredients except gin and grapefruit zest and boil down until the amount is reduced to a half. Add gin and the zest when the sauce is cold.
---
Caramelized almond
100 g water
250 g granulated sugar
1/2 u vanilla beans
2 g salt
500 g Valencian almond
Place the water, granulated sugar, vanilla seeds and salt and cook until 120℃. Add Almonds and remove from the heat. Mix well with a spatula until they become crystallized. Cook them again until they become brown. Crush coarsely in the Robot-Coupe.
---
Biscuit Joconde
120 g egg white
70 g granulated sugar
40 g egg yolk
25 g cocoa powder
15 g cake flour
Make meringue with egg whites and granulated sugar. Add egg yolks and fold cocoa and cake flour, which are mixed in advance into the batter. Pour in a baking sheet and bake at 180℃ for 7-8 minutes. Cut out 2mm-diameter circles.
---
Mousse Chocolat
120 g milk
36 g egg yolk
8 g trehalose
50 g bitter chocolate(70%)
100 g Or Noir(47.2%milk chocolate)
243 g fresh cream, 35% fat
Make crème anglaise with milk, trehalose and egg yolks. Combine it with the two kinds of chocolate and cool it down to 42℃. Combine with whipped cream and emulsify.
---
Sauce Pamplemousset
90 g grapefruit
12.5 g granulated sugar
3 g agar-agar
6 g gin
q.s. grapefruit zest
Place the grapefruit, granulated sugar and agar-agar in a saucepan and bring to a boil. Remove from the heat and Bamix. Add gin and grapefruit zest.
---
Decoration
Thin chocolate circle, leaf shape chocolate, dill.
---
Montage
Assemble the following parts in the order in a glass: Streusel Cacao, Celery Butter Cream, Caramel Chocolate Custard Cream, Celery Butter Cream, Garniture Pamplemousse, Caramel Ice Cream, Mousse Chocolat, three circles of Biscuit Chocolat, Caramelized Almond and Tuille Chocolat. Place the thin circle chocolate over the glass and pipe more Mousse Chocolat and place the leaf-shaped chocolate. Serve with heated Sauce Pamplemousse.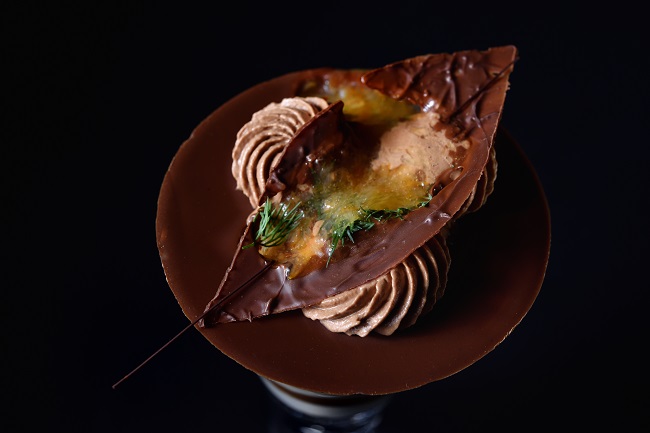 Discover these creations by Akihiro Kakimoto in sogood #24
---