The type of obsession that Oriol Balaguer suffers is of a maximum degree, since it is projected in multiple manifestations. His is an obsession with quality, a job well-done, perfection, for continuing to improve, for harmony and balance, for aesthetics, for packaging. A high level of demand that is not limited to a specific facet or a single creation, and that is reflected in the cakes, desserts, petits fours, bonbons, artistic chocolate… in the more than 80 creations that are in his book, "Obsession".
In his pieces, there is always an artistic component. A good example of this is Escarchado, one of the cakes included in the book "Obsession" and that he designed for his wedding with his wife, Marta. "We applied the spoon technique to decorate the cake, as if it were a cuisine dish. We sprayed white over black in order to obtain a frost-like texture. Its apparent it is nothing but perfect simplicity ", explains Balaguer.
A harmonious creation not only aesthetically, but also at the level of flavors, since it combines a delicate and subtle Criollo cocoa with aromatic fruit and tea in the form of a cream.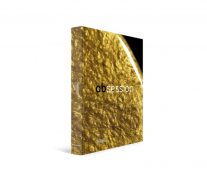 Discover Oriol Balaguer's Obsession
This recipe yields four entremets. Outer molds: 16-cm- wide and 4-cm- high rings. Molds for the inserts: 14-cm- wide molds. Tasting temperature: 4ºC
Apricot gelée
500 g apricot purée
25 g passion fruit purée
75 g sugar
7 g gelatin sheets
Combine the sugar and purées and heat 100 g of this purée so as to dissolve the gelatin sheets, previously hydrated and drained. Add the remaining purée and mix.
---
Grand Cru chocolate mousse
700 g basic crème anglaise
740 g Caraibe dark couverture, 66% cocoa
1000 g foamy cream
Pour the crème anglaise over the chopped couverture and emulsify to a smooth, glossy and elastic texture. At 35-40ºC, fold in a quarter of the foamy cream until fully incorporated. Finally add the remaining foamy cream very gently.
---
Croustillant
130 g hazelnut paste
60 g Tanariva Lactée milk couverture, 35% cocoa
130 g Eclat d'or
Mix the melted couverture and hazelnut paste together. Add the Eclat d'or and mix very gently. Spread 80 g over the sponge. Chill and spray with dark couverture. Reserve.
---
Chocolate and tea crémeux
500 g heavy cream
500 g milk
40 g Earl Grey tea
200 g egg yolks
900 g Jivara Lactée milk couverture, 40% cocoa
Infuse the tea in the liquids for about 3 to 4 minutes, not longer than this otherwise the tannins of tea may give the infusion an unpleasant taste. Pass through a fine sieve and weigh again until one liter is obtained.
Add the sugar and bring to a boil. Pour over the egg yolks and cook to 84ºC. Pour over the chocolate gradually and emulsify until a smooth, glossy and elastic texture is obtained.
---
Almond sponge
700 g fresh eggs
500 g almond powder
350 g sugar
150 g cake flour, T55
400 g fresh egg whites
150 g sugar
10 g egg white powder
Combine all the ingredients (except the egg whites and sugar) in the bowl of a mixer and beat on second speed until pale (ribbon stage). Whip the egg whites and sugar on medium speed to soft peaks. Gently combine both mixtures and pour into rings or molds. Bake at 180ºC for approximately 8 to 10 minutes.
---
White spray
500 g Ivoire white chocolate, 35% cocoa
500 g cocoa butter
Melt the cocoa butter and chocolate and strain. Apply approximately 40ºC
---
Montage
For the insert:
Pour the chocolate and tea crémeux into the same 14-cm-wide rings in which the sponge has been baked and freeze. Place the apricot gelée and freeze again.
Arrange the 16-cm-wide rings. Place the crispy sponge on the bottom, pour a first layer of chocolate mousse and place the tea, apricot and almond sponge insert. Finally finish with a second layer of chocolate mousse. Slightly freeze and, with the rest of pre-crystallized mousse, garnish with the help of a spoon. Blast freeze at -40ºC and store at -18ºC.
Apply the white chocolate spray.