Text: Reiko Matsuno
Photos: Noriko Carlow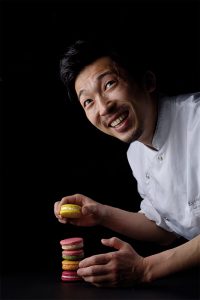 Ryosuke Sugamata was a competent pastry chef at Deux Patisserie when he showed a reconstructed crème caramel in previous so good #10 and he now owns his pastry shop in Yoga, Tokyo that he made his dream come true at last in 2015. With the experience as a sous chef at Pierre Hermé Salon de Thé in Japan and the fame as a master of macaron, one of his specialties sitting in the brightly-lit showcase is macaron, naturally. He even transforms the fragile delicacy from France into individual cakes with seasonal ingredients. When looking into the showcase at Ryoura, it is as if the smell of fresh fruits decorating his cakes that break through the glass to your nose.
Pastry chefs, especially in Japan, are very serious about seasons and seasonal ingredients, but Sugamata says, "I've tried not to stick with seasons too much, recently." He doesn't mean that a sense of the season is no longer important for him. "Seasonal fruits such as strawberry in spring or citrus in summer remind you in what season you are now in visually, but I want people to associate my cakes with more than one season. Pear and caramel, for example, are more like an autumn combination, but if I add lychee and passion fruit to it, the cake will be able to remind you of summer, too."
Many chefs think that using more than three main ingredients in a cake is likely to mask their pure tastes, but he doesn't think so. "I like to achieve the taste I want by layering various tastes and flavors of ingredients. There should be supporting roles to highlight the leading role. Take sashimi for example. Sashimi is eaten with a small amount of wasabi to mask its fishy smell. I mean, adding something can deduct something you don't need. That's the way I invent combinations of ingredients.
Tayberry is one of his most favorite ingredients. He found it in France three years ago and its rose-like, flavorful tea-like smell lit his creative fire. It goes well with various ingredients, he thinks. "Coconut is one of the best partners, but I don't like to cloud the pure taste of tayberry, so I often make it jelly or jam when combining with other ingredients." He creates "eclairs of the season" through the year and the Eclaire Jardinage with tayberry is the taste of this spring. From winter to spring, every pastry chef fills his/her showcase with cakes with strawberries because Japanese adore it. The standard strawberry tactic is simply layering sponge, whipped cream and strawberries because strawberry here tastes best without any tricks. It seems that is why sophisticated strawberry cakes are not around.
'Seasonal fruits such as strawberry in spring or citrus in summer remind you what season you are in now visually, but I want people to associate my cakes with more than one season.''
When you see Eclaire Jardinage, your eyes would transmit such data to your brain that these cakes are pink in color and pink means usual strawberry flavor. But your tongue will be thrilled with unexpected joy. Eclaire Jardinage has some tangy berry flavors and a luscious texture and the rich taste of pistachio cream. With his unique combination, and a superb sense of proportion of ingredients, the taste of his cakes always betrays the appearance in a good sense even though each ingredient is familiar.
When it comes to the designs of the cakes, he is almost fussy about straight lines and curved lines. "Look at Eclaire Jardinage, and the line of Mousse Tayberry and whipped pistachio cream above it. I wanted to make a good contrast of line and whirls".
Jardinage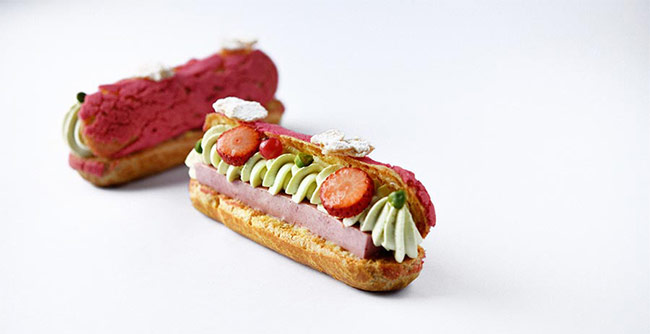 choux pastry
150 g butter
150 g milk
150 g water
10 g sugar
3 g salt
180 g cake flour
350 g whole egg
Put butter, milk, water, sugar and salt in a pan and bring it to boil. Remove from the heat and add shifted cake flour. Transform the mixture to mixer bowl and add egg in several parts while beating.
---
red cookie dough
150 g chilled butter, 1cm-large cubes
150 g sugar
185 g bread flour
q.s. red food coloring
Beat everything in a mixer.
---
crème pâtissière
96 g egg yolks
94 g sugar
10 g cake flour
18 g custard powder
300 g milk
100 g fresh cream (45%)
1/4 u. vanilla bean
Mix the first four ingredients well. Heat milk, fresh cream and vanilla bean. Add the milk mixture to the egg yolk mixture. Cook it thoroughly.
---
confiture tayberry
250 g tayberry puree
15 g lemon puree
100 g sugar
4 g pectin LNSN325
Heat purees to about 45℃ and add the mixture of sugar and pectin. Boil it for a minute and pour into a baking pan. Whisk with hand blender when used.
---
bavaroise pistache
516 g milk
2.5 g vanilla powder
193 g egg yolks
165 g granulated sugar
18.7 g gelatin
455 g fresh cream (35%)
40 g pistachio paste
Make crème anglaise with milk, vanilla powder, egg yolks and sugar. Add gelatin to crème anglaise and strain. Add pistachio paste. Beat fresh cream until soft peak forms and add to the pistachio mixture. Pour into a 57cm x 37cm mold and put in a freezer.
---
mousse tayberry
360 g tayberry puree
140 g strawberry puree
95 g red currant puree
200 g egg yolks
220 g sugar
42 g water
13.5 g gelatin
450 g fresh cream (35%)
Make crème anglaise with 1/3 amount of the mixture of three purees, egg yolks and sugar. Moisten gelatin with water and add to the crème and strain. Add the rest of the purees and let cool to 24℃。Beat fresh cream until soft peak forms and combine with the berry mixture. Pour over the Bavaroise Pistache and put in a freezer. Cut into 11.5 x 1.5cm.
---
chantilly pistache
100 g fresh cream (35%)
200 g fresh cream (45%)
24 g sugar
9.5 g pistachio paste
Beat fresh creams and sugar and add pistachio paste.
---
almond decoration
100 g almond slices
28 g syrup (Baume 30°)
56 g icing sugar
Mix everything gently with rubber spatula and spread on a baking pan. Bake at 155℃ for about 10 minutes.
---
Montage
Pipe the choux pastry on a baking pan and top with the Red cookie dough. Bake at 190℃ at first and lower to 170℃ for one hour in total. Cut the choux horizontally and pipe crème patissiere and Confiture Tayberry. Place the layers of the bavarois and the mousse and pipe Chantilly Pistache. Top with strawberry, red currant, pistachio and almond decoration.
---
You will find these recipes in so good #20