Despite the emergence of Nordic haute cuisine for some years, its sweet side remains underrepresented in countries such as Denmark. However, recently the influence of restaurants like Noma have served as motivation for the opening of the first establishments that revolve around the sweet. Winterspring is one of them. So, claiming this Nordic look, with typical products from the Danish landscape and traditional techniques, interesting savory touches are introduced to the dessert and a fine and colorful presentation, without artifice. Ice cream and sorbet are present in a dessert bar and café in Copenhagen that has its origins in a gourmet brand of these products. In charge of the workshop we find Emil Eshardt-Nielsen and other restaurant chefs renowned on the Danish scene (such as AOC), as well as Mike Adelsten, the pastry chef who comes from the Copenhagen restaurant in Paris
A visit to the Noma restaurant was enough for Karina Schmitt Lund to be inspired to create a gourmet ice cream brand with the best Nordic ingredients, unique combinations of flavors and innovative techniques. Soon there were sorbets based on Nordi buckthorn, handpicked raspberry, sun-ripened apples and dried flowers, and ice cream with dried chamomile flowers, sea salt from Iceland, and high-end products imported from their respective countries, such as Italian licorice root, dark- roasted espresso coffee, et cetera. Awards like the Great Taste Awards, organized by the Guild of Fine Food, have repeatedly acknowledged her references, such as the Apple Sorbet in 2017, but she has also received the Red Dot Award for packaging design.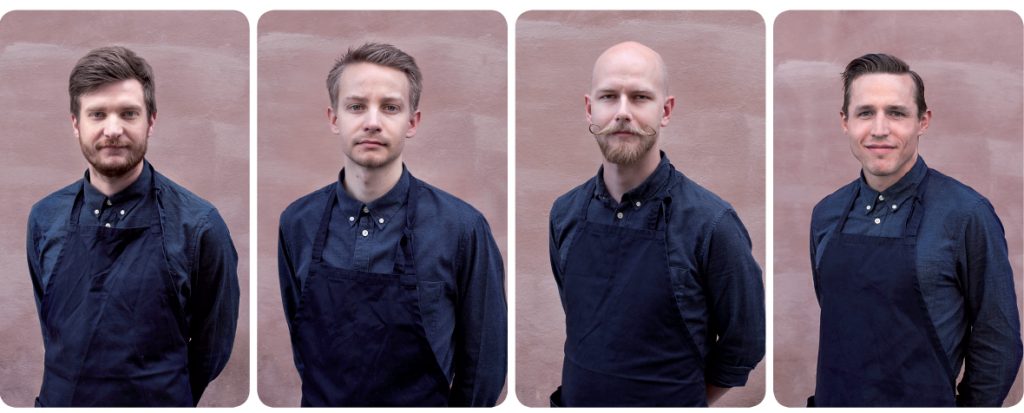 After the good reception of this brand of ice cream, Karina Schmitt wanted to take the philosophy of this brand to a coffee shop and dessert bar in Copenhagen that would allow consumers a more direct experience of tasting their ice cream in the context of a plated dessert. So, in this space, the desserts are served in time slots as different as breakfast, lunch, tea time in the afternoon, as well as ice cream and sorbets to take home. The workshop team is led by Head Chef Emil Eshardt-Nielsen, the station chef of the two-Michelin-star restaurant AOC (he was also at Søllerød Kro and Kadeau). Sous chef Nicolas Stampe Our, who has worked in restaurants such as Søllerød Kro, Hos Fischer and AOC, is next in the hierarchy; then chef Mads Krogholt, young and talented, trained at Restaurant No. 2 and AOC; and, finally, Mike Adelsten. The latter began his career as a chef and then specialized in plated dessert. Previously, he worked as a dessert chef at Søllerød Kro in Denmark and at the Copenhagen Restaurant in Paris.
We bring nature into our desserts. Greens and wild herbs are always part of our process
A common denominator of the service sheet of most of the workshop team is their journey through the Danish restaurant AOC. Consequently, it is natural for Head Chef himself, Emil Eshardt-Nielsen, to recognize the influence in his work of Søren Selin, Head Chef of AOC. He also draws inspiration from other professionals such as Brian Mark Hansen and Alberto K. In Winterspring, says Emil, 'we bring nature into our desserts. Greens and wild herbs are always part of our process.' Thus they present perfectly flavor-balanced desserts that avoid excessive sweetness and that, often, resort to an ingenious sweet-salty harmony, with colorful presentations, in which the work of the mandolin in fruits and vegetables is seen. A good example is the pumpkin tart with sea buckthorn, perfectly balanced and not too sweet, with a caramel base which gives it a consistent flavor. Perfect for autumn.
The interior design reflects this philosophy through a project signed by Ilse Crawford, of Studioilse. An intimate space has been designed to reflect the Nordic sensibility and the importance of small moments, such as the ritual of a morning coffee, a refined lunch, or the celebration of special occasions tasting desserts accompanied by a glass of champagne. An Okholm grid lamp creates a soft ambience to welcome the clients, fine woodwork that uses painted woods to add a touch of familiarity and a relaxed atmosphere, a curved cabinet decorated with walnut wood in which the traditional Danish flødebolle is displayed (chocolate-coated marshmallow treats), chocolates and freshly made bonbons. Sitting on the stone bar of öland röd, diners can appreciate the preparation of the desserts in the open shop.
Every detail counts in this dessert bar, the collection of Swedish ceramics that adapts to menu changes, embroidered linen, blown glass, cutlery designed by Soru Yanagi and borosilicate glass spoons by Max Frommeld, designed to get the most possible out of the desserts.
You will find these three creations at so good #20