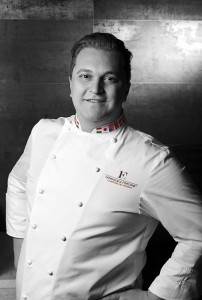 Perseverance has its rewards. In 2011 he won the silver medal in Lyon. Many would have already been satisfied, but Emmanuele Forcone knew he could achieve glory because he knew the recipe: 'a good team, a lot of experience, all the dedication and maximum organization.' And so in 2015 he, with Francesco Boccia and Fabrizio Donatone, was proclaimed world pastry champion. He sums up his philosophy in one sentence, which cannot be rebutted, 'we all have the pen to write our own future'.
Coffee, lemon and gianduja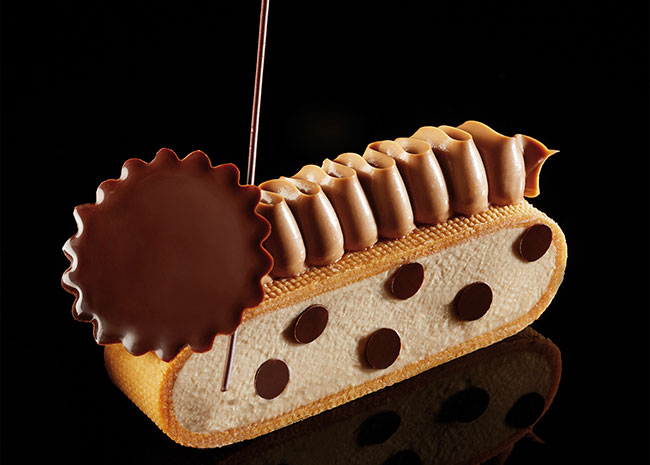 whipped coffee cream with mascarpone and lemon
450 g cream
50 g espresso
50 g coffee beans
500 g mascarpone
180 g superfine sugar
zest of ½ Amalfi lemon
Mix the cream, lemon zest, coffee beans and espresso together. Cover with plastic wrap and refrigerate at 4ºC overnight.
Strain and combine the infusion with the sugar and mascarpone.
Whip in a stand mixer to a thick consistency, being careful not to overwhip.
---
gianduja and mascarpone crémeux
200 g crème anglaise
100 g milk couverture, 40% cocoa
45 g Piadmonte hazelnut paste
80 g mascarpone
2 g animal gelatin
10 g water for the gelatin
Hydrate the gelatin in the water and whisk into the hot crème anglaise to dissolve. Gradually pour the crème anglaise over the chocolate and hazelnut paste, while stirring with a rubber spatula until emulsified. Keep over a temperature of 35ºC. Smooth the emulsion with the help of a hand-held blender, ensuring an elastic, glossy center.
At 40ºC, add the mascarpone and finish the emulsion. Leave to set overnight before use.
---
almond sablé paste
360 g butter
270 g confectioners' sugar
100 g almond powder
150 g whole egg
180 g flour
525 g flour
6 g salt
1 u vanilla bean
Knead the butter, salt, sugar, almond, egg and first measurement of flour. Once the dough is homogeneous, quickly mix in the second amount of flour.
Leave to set overnight, shape and bake at 160ºC until completely golden.
---
Assembly
Bake the sablé in an oval shape with the help of a silicone mat. Impermeabilize with some cocoa butter and fill with the whipped coffee and lemon cream. Garnish with the gianduja crémeux and chocolate details.
---
You will also find these three creations at so good #16