It was unimaginable. It was totally unfair. With little more than half an hour before the final presentation, the Italian team's chocolate piece suffered a fatal accident, and huge disappointment overcame many of those present. It was without doubt one of the best pieces of its kind in the whole competition. And in one split second, all appeared to be going wrong. To make things worse, the incident meant that they would have to present the plated dessert outside of the required time, thus incurring a penalty. However, they recovered and they also recovered the piece. They knew that there was a slim chance of succeeding and they did so, finishing brilliantly. Emmanuele FORCONE, Francesco BOCCIA and Fabrizio DONATONE collapsed into an emotional embrace in front of the applause from the whole auditorium. So it seemed that fortune was not in their side.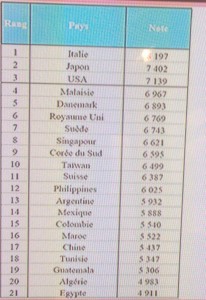 The U.S.A. climbed to third place on the podium, followed by the surprising announcement of Japan taking second place. The Italians stood by, trying to calm their nerves, and with an air of total disbelief. Then finally, Gabriel Paillasson opened the envelope and shouted the name of the world champions: Italy.
The reason for their victory could be seen on the scoreboard. Despite everything that happened, the Italians managed a total of 8.197 points, 795 more than the Japanese and more than 1,000 points of a difference to those in third place. They were superior in every section and pulled off a memorable win.
Among the rest, little stood out, although it is now clear that Asian pastry cooking has made great advances, with 5 countries in the Top Ten.
And it is also evident that there has been not much improvement in terms of technique, flavours and especially aesthetics, in a competition that continues to be the greatest but which perhaps needs something new to make it more of an attraction.