Greek pastry is experiencing a sweet moment today thanks to chefs like Dimitris Economides, known as the #pastritect. In his boutique with a sophisticated and modern air, inspired by the Athens yesteryear, he makes generous, well-rounded, and well-traveled pastries. "Generous because I always taste my cakes to give them a sense of delicate richness and sophistication. Well-rounded because they are balanced and carefully dosed, and well-traveled because I have not only traveled to find this perfect combination of flavors, but also because my patisserie is capable of taking you on a Parisian journey on the first bite", he assures us in so good #28.
In the Cascara cake, included in his feature article in so good #28, he combines flavors reminiscent of caramel, such as praline and blonde chocolate, along with dried fruit and husk. All of them revolve around coffee, which is what inspires the original final shape. He goes through several phases in the creation process. First, he thinks of the ingredients and then draws the idea in his head and on paper as if it were an architectural project. The result is signature creations like this delicate and elegant piece.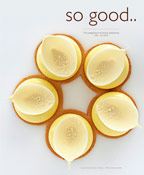 Cascara
Cocoa biscuit
103 g egg yolks
270 g eggs
205 g sugar
171 g egg whites
76 g muscovado dark sugar
67 g flour
63 g cocoa powder
45 g clarified butter
Whip the yolks, eggs and sugar in bain marie until it reaches 50–55°C. Continue whipping it in a mixer with the paddle. Whip the egg whites and the muscovado sugar until a French meringue is obtained. Mix the flour with the cocoa. In a bowl mix the yolk mixture with the meringue using a rubber spatula. Add the flour and the cocoa and finally the clarified butter. Bake at 180°C.
---
Coffee-almond praliné
530 g almonds
356 g sugar
90 ml water
26 g butter
2 g fleur de sel
56 g coffee beans
Bake the almonds to 160°C for 9 minutes. Make a syrup with the water and sugar to 114°C. Add the almonds, coffee beans and fleur de sel. When it is caramelized, add the butter and remove it from the heat. When it gets cold, put it in a food processor until it turns into a praliné.
---
Coffee syrup
700 ml espresso coffee
350 g sugar
100 g Marsala wine
In a pot heat the espresso coffee. When it starts boiling,
gradually add the sugar and stir for 3 minutes. When it
gets cold, add the Marsala.
---
Mousse Dulcey – cascara – baked vanilla
milk
whipped cream
Dulcey blond chocolate 35%
gelatin
cascara
vanilla sticks
---
Check out the recipe in so good #28
---
Nappage
500 g Absolut Cristal neutral glaze
80 ml water
Boil the glaze with the water.
---
Montage
Cut the biscuit. Slightly dip it in the coffee syrup. Put the praliné on top. Fill the chosen mold along with its counter-mold with the Dulcey mousse. Insert the biscuit. Smooth with more mousse. Freeze and spray with nappage.
Discover these recipes by Dimitris Economides in so good #28