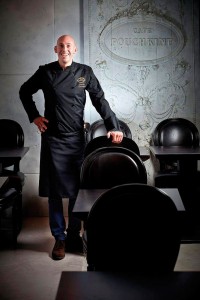 He is the pastry chef of a Maison which is as peculiar and unclassifiable as it is glamorous and distinguished. His challenge: bringing a personal touch to a patisserie which is built with French basis tradition and nods to Russian cuisine. We are talking about Damien Piscioneri and Café Pouchkine. In these pages we find a deeply vocational professional whose eyes shined in a special way just two years when he was proposed to face the major challenge of directing the sweet creations and production of Pouchkine. In addition, we gather here two recipes that meet with the approval of the international public visiting the Parisian establishments of this house, Belizna and Baba panettone. Luxurious and refined.
During his childhood he frequented the kitchens of great restaurants ('delivering fresh pasta made by my parents'). His career path was clear – he wanted to be a chef. After some years of experience, he began to feel attracted to patisserie and he sets new challenge: becoming a pastry chef. From there he started a long journey through workshops and kitchens of great names such as Le Moulin de Mougins (Mougins), Oasis (Mandelieu-La Napoule) Gérard Mulot Patisserie (Paris), Four Seasons Hotel Gresham Palace in Budapest, Novikov Group in Moscow, Caesars Palace in Las Vegas, Sketch in London, among others.
"Our concept is to harmoniously join Russian products ans French traditions, through sweet little jewels"
In 2013, Andrey Dellos offered him the position of Pastry Chef of Café Pouchkine. 'My eyes were shining. I was really excited and looking forward to facing this new challenge. In my mind, gourmand ideas came so as to bring my personal touch to the house.' Thus is how Damien Piscioneri remembers his arrival in one of the most unique and glamorous shops in French patisserie, as well as Russian, pastry, for the peculiarity of this Maison is precisely this communion. The chef himself explains plainly: 'Our concept is to harmoniously join Russian products and French traditions, through sweet little jewels.'
Indeed, everything made by his hands has the luster of luxury, refinement, and excellence. And desire. 'For me, pastry is, above all, gourmandise', says Piscioneri. It is not surprising that a customer were to confess feeling a 'gustatory orgasm' after trying one of his delicacies.
The delicate and fresh Belizna is among his accomplishments, with a coconut and raspberry base (whose recipe is included in these pages); the citric and aromatic Diadema; or the chocolatey and imperial Datsha. Piscioneri himself finds he is skillful at a light, subtle and refined patisserie, and defines his creations as moreish, colorful and fruity.
And all this occurs in an equally exclusive setting with a palatial air, with three shops in the French capital plus the original in Moscow. A real luxury.
Belizna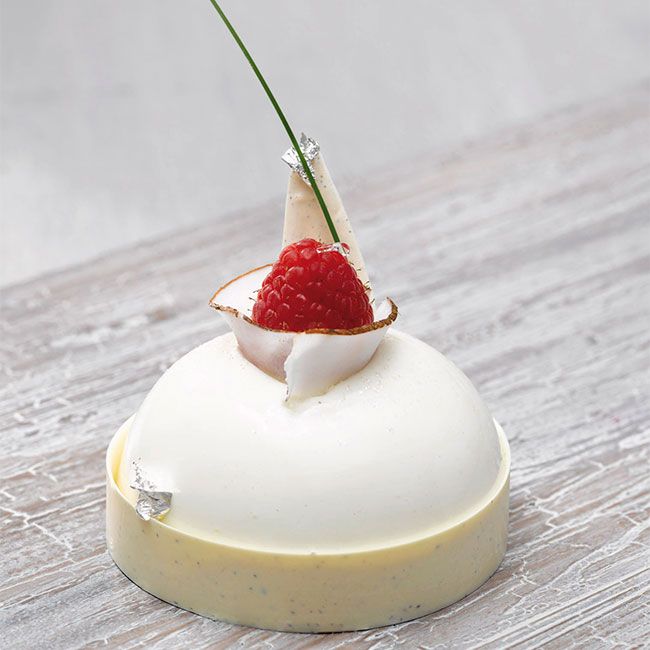 coconut dacquoise
360 g egg whites
160 g superfine sugar
160 g almond powder
160 g coconut
60 g flour
250 g confectioners' sugar
250 g butter, melted
Whip the egg whites and thicken then by mixing in the sugar in three additions. Carefully fold in the powdered ingredients sifted together. Spread the dacquoise on the coconut crumble. Bake at 180ºC.
---
shredded coconut crémeux
600 g coconut purée
120 g coconut, shredded
80 g Malibú liqueur
3 g pectin X58
6 g sugar
200 g whipped cream
120 g gelatin mass
Heat the purée and Malibú. Add the pectin together with the sugar and bring to a simmer. Remove from the heat and whisk in the shredded coconut. Reserve. Add the whipped cream and melted gelatin mass.
---
raspberry preserve
coconut crumble
raspberry crémeux
These recipes are in so good #14.

---
white coconut glaze
300 g water
600 g sugar
600 g glucose
280 g gelatin mass
600 g Ivoire white couverture
400 g sugared condensed milk
10 g coconut aroma
5 g titanium dioxide
Combine the water, sugar and glucose and bring to a boil. Pour over the chocolate, condensed milk and gelatin. Process with a hand blender and reserve in the refrigerator.
---
You will find Baba Panettone' recipe in so good #14