Oriol Balaguer was one of the star guests of the inauguration of L'École Valrhona Brooklyn in 2015. Three years later, the Spanish chef has returned to the school to explain his "pastry style." A two-day course, aimed exclusively at members of Valrhona's Cercle V, in which he shared his creativity and award-winning techniques without reservation.
Balaguer is a master of chocolate and a pastry chef with a very personal style that has led him to be recognized internationally and win numerous awards, for example, the Prix au Chef Patissier 2018 awarded by the International Academy of Gastronomy, Spain's Best Artisan Butter Croissant 2014, and Spain's Best Panettone 2017. And, of course, his the author of OBsession.
During his masterclass he presented creations like this Azelia Exotica Entremet, of which we detail the recipe below.
Photos: Alex Ayer
Hazelnut madeleine sponge cake
125 g eggs
200 g sugar
200 g plain flour
125 g powder of unpeeled and toasted hazelnut
15 g baking powder
250 g milk
175 g liquid butter
150 g  Biskelia 34% chocolate
Beat eggs with sugar until total whitening and fluffiness.
Incorporate the milk and the mixture of chocolate and butter
Add the sieved flour and baking powder mixture and the hazelnut powder.
Rest 30 minutes and pour into the 14 cm inner rings. of diameter 80 g. Cook at 180ºc. 8 minutes.
---
Crémeux Azélia
250 g cream
250 g milk
100 g yolks
50 g sugar
3 g gelatine sheets
370 g  Azélia 35% milk chocolate
Make a créme anglaise. Pour the anglaise over the melted Azelia chocolate and emulsify, add the gelatin sheets. Once the emulsion is at about 40ºC, add the whipped cream and mix until you get an impeccable emulsion, which is to say,  smooth, shiny and elastic. pour in the molds and freeze.
---
Azélia mousse
335 g crème anglaise

 base 

500 g Azelia milk 35% chocolate
3 g gelatine sheets
500 g 

 

whipped cream
Heat the Anglaise and pour on top of the shredded cover and emulsify to achieve a smooth and elastic texture. At 38ºC. add the whipped cream. Mix until you get a smooth and bright mixture.
---
Hazelnut streusel
500 g granulated brown sugar

 

500 g cake flour T55
500 g powdered hazelnuts, toasted with skin
500 g 

butter

5 g salt
Mix all the ingredients together until a homogeneus mixture is obtained. Reserve in the refrigerator for about four hours. Laminate in a dough shetter on position 4 and bake at 150-160ºC to a golden color (approximately 20 minutes).
A gentle, low-temperature baking will ensure an optimum result.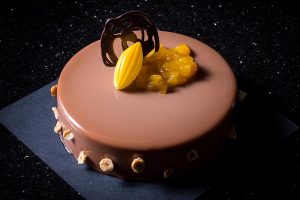 ---
Milk couverture glaze
300 g heavy cream 35% fat
80 g glucose syrup DE 44
700 g Jivara Lactée milk couvertuer 40%
10 g gelatin sheets
350 g neutral gelatin
Combine the cream and glucose and bring to a boil. Whisk in the bloomed gelatin sheets to dissolve. Strain over the melted couverture and emulsifyu until a smooth, shiny texture is obtained. Add the neutral gelatin and emuilsify. Leave aside and use at 35ºC.
---
Exotic gelatin
200 g yuzu juice
250 g lime juice
350 g mango purée
200 g passionfruit juice
20 g N.H. pectin
140 g inverted sugar
175 g sugar
Bombine fruits purées with the juices. Heat a small amoun of it with the sugar and pectin. Bring to 90ºC. Add remaining ingredients.
---
Montage
We will assembly everything upside down, starting with the Azelia mousse, then the crémeuix and sponge cake. Finsih with remaining mousse and hazelnut strezel. Freeze.
Glaze and decorate with exotic gelée.