Barry Callebaut has carried out a worldwide study to understand consumer needs for plant-based sweet products and, more specifically, for milk chocolate. This research ensures that only 45% are satisfied with the current offer on the market.

Millennials and Generation Z, between the ages of 18 and 44, are more likely to actively seek a plant-based diet. The report shows that globally, six out of ten respondents expect food brands to offer a plant-based option compared to 43% of the older generations, generation X and Boomers, aged between 45 and 75 years. In addition, it reveals that a third of consumers are aware and would pay more for a plant-based product option. When it comes to plant-based milk chocolate, 67% of Millennials and Generation Z are interested in accessing a more varied and extensive offer. And if we talk about consumer trends, four out of ten consumers say they have eaten more vegan products during the last 12 months and 44% expect to increase their consumption in the future.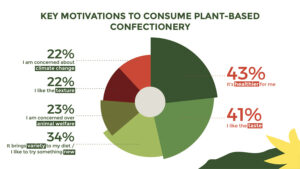 Globally, the key motivations for trying all kinds of plant-based chocolate sweets are health (43%), taste (41%) and adding variety to the diet or trying something new (34%), ahead of other issues such as concerns about climate change and animal welfare. While the main barriers to eating chocolate of vegetable origin are differences in taste (28%), price being too high (25%), and lack of information (19%).

Based on this result and in response to growing demand, Barry Callebaut has just opened Plant Craft, an online pop-up shop where more than 50 recipes designed by prestigious chefs with plant-based ingredients for pastry, bakery, beverages, and ice cream are offered so that brands can test out their future innovations.