Food technology company The Every Co. introduces EVERY EggWhite™, an animal-free egg white. This groundbreaking launch offers the culinary taste and functionality of egg whites that bakers and chefs need, but without the need for chickens or factory farms, using less water, land, and greenhouse gas emissions.

Unlike other alternatives on the market, EVERY EggWhite™ whips and gels like a chicken-derived egg white to provide the same height, foam stability, aeration, and texture needed for baking. In this way, it can be used both in cakes, cookies, and breads, as well as in protein bars, plant-based meats, and pasta.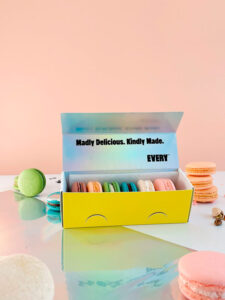 To create animal-free protein, The Every Co., rebranded in 2021 as Clara Foods, employs a method called precision fermentation. In this process, they insert the DNA sequence of a hen's egg protein into the yeast and add sugar to it. Fermentation ensures the highest quality and most consistent version of an egg protein.

To show its full potential, the company has partnered with Chantal Guillon – a business known as the French Macaron of the West Coast- to create vegan macarons. These limited-edition macarons are handcrafted at Guillon's headquarters in San Francisco and shipped across the United States in boxes of six flavors: Earl Grey, Passion Fruit, Pistachio, Strawberry, Tahitian Vanilla, and Dark Chocolate.

"Our mission is to push boundaries and bring the best ingredients and techniques to the macaron," says pastry chef Patrick Lassaque, who co-owns Chantal Guillon with his wife Lubna Lassaque. "We never compromise on quality or taste, so we were excited to partner with EVERY™ to do what has never been done before: create a friendly, sustainable, and incredibly delicious macaron. Bon Apetit!"