From October 22 to 26, Host returned strongly and in a face-to-face format. The event, which was held simultaneously with Tutoofood, exceeded the expectations of the organizers with a total of 150,000 visitors, strengthening Milan as a European exhibition center and for the international promotion of Italian excellence.

"The gamble of going back to meeting in person proved to be a winner", comments Luca Palermo, CEO and CEO of Fiera Milano. "There was a great desire to carry out business live, as shown by the meetings of the more than 150,000 visitors with more than 2,700 companies."

The event also served to close an agreement with Informa Market, with more than 450 events in its portfolio, which will help future Host events to further increase their internationalization. "Our ambition remains unchanged: we want to strengthen ourselves as a European hub capable of hosting congresses and events with a global reach. This is why we are increasingly focused on activating partnerships with major international players," he added.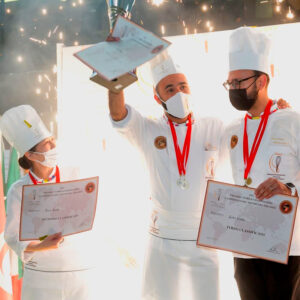 In terms of events, Host held prominent championships such as the Tiramisu World Championship organized by the FIPGC, in which 24 contestants from around the world presented a traditional tiramisu plus an innovative version. Nabil Barina (France) took first place, Kirara Kishibiki (Japan) second, and Gianluca Fiorentino (Switzerland), third. The II Panettone World Championship was also held, organized by the Accademia dei Maestri del Lievito Madre e del Panettone Italiano, which proclaimed Salvador de Riso the absolute winner, Antonio Pistoni was winner of the critics jury, and Giuseppe Mascolo winner of the popular jury.

Among the pastry initiatives, Luxury Pastry In The World, commanded by the Italian master Iginio Massari, and the FIGPC World Pastry Awards in which 24 pastry chefs from all over the world participated and in which Japan triumphed. Yosuke Otsuka, Yusaku Shibata, and Kazuhiro Nakayama won in three of the four categories of the competition (pastillage sculpture, chocolate sculpture, and sugar sculpture). Maria Concas, from Italy, won the wedding cake category.