The Escribà's pâtisserie, of Barcelona, headed up by Christian Escribà and Patricia Schmidt, begins its foreign activity with Escribà Asia, whose first and greatest step will be launching "Fantasia By Escribà", to be celebrated from the 22th to 24th of August at the Marina Bay Sands Halls D&E in Singapore. The event, the only one of its kind, consists of a huge edible exhibition of more than 8,000 metres squared (equal to two football pitches), divided into eight different pavilions, which will combine statuesque and artistic pieces with workshops, theatrical presentations and all kinds of other activities.
It is difficult to get one's head around the scale and scope of this concept. Its organisers make repeated mention of Tim Burton's remake of the classic "Charlie and the Chocolate Factory", in order to help people understand the magnitude of these edible scenarios in which all kinds of things will take place. Indeed, Paul Wakefield, Executive Chairman of Escribà Asia, emphasizes that the main purpose for combining theatre, sculpture and pastry is to produce as many different feelings of surprise, delight and fascination as possible in the visitors to the exhibition. However, knowing this does little, if anything, to assist in the frantic race to build as many as possible of these enormous creations from chocolate and sugar.
From the information that has been released in relation to Fantasia By Escribà, we know that there will be a grand entrance with a tunnel flanked with statues, covered with marshmallows and watched over by a giant moon with blinking eyes. Next, visitors will be greeted with a full-sized baobab tree made from chocolate and mint leaves, surrounded by all kinds of safari animals finished off with chocolate, meringue and sugar. The show will be completed by a giant wedding cake eight meters high plus an edible wall, eight meters long by four high.
The space / show will also contain a store with luxury products from Escribà (rings, shoes and bags of candy and chocolate), a theatre play about chocolate that will include all kinds of performances such as bodypainting, an exhibition inspired by the cultural bridge between Barcelona and Asia, and an area called "Escribà Academy" where all the workshops will be held for those who want to immerse themselves in the art of pâtisserie.
The eight pavilions are completed with "Future of Pastry", an invitation to the imagination to conceive the pâtisserie of tomorrow, and "Wonderland", an exciting recreational area containing dry and wet products designed especially for the little ones to enjoy.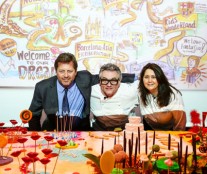 The theater company, "Els Comediants" will be responsible for bringing to life all the comic and dramatic aspects of the exhibition through a team of European and Asian actors. The other key name in the initiative is Enric Ruiz Geli, the architect responsible for designing the structure that will house each and every one of the delicacies devised by the restless minds of Christian Escribá and Patricia Schmidt.
This unique commitment is part of a strategy by Pâtisserie Escribà to introduce itself to Southeast Asia. To do this, Escribà Asia will consist of Escribà Events, which will reproduce the spirit of the smaller events for which the pastry chef has already achieved great recognition in Spain;: selling their ingenious candy in the form of rings, handbags and similar products under the brand of Escribà Retail; Escribà Institute, whose spirit lies in innovation, training and interaction with others related to the world of cooking, food and research. Fantasia By Escribà plans to replicate the experience later in other parts of the world.
Download 'Fantasia by Escribà' Pavilions [PDF 777kb]