The Salon du Chocolat in Paris 2013 (30/10 to 3/11) includes the fourth edition of its biennial edition for the professional sector (28 to 30/10). As if the figures precede it do not speak for themselves, 19 editions of the legendary Parisian salon for the general public and 23 celebrations spread across French and international geography and international, the new proposal in Paris ensures the expansion of the total surface area of 12,500 m2 (2012) to the current 20,000, occupying the entire pavilion 5 of the Paris Porte de Versailles exhibition space.
Meanwhile, the Professional Salon has also designed a much larger space, from 5,000 m2 to 12,000 m2, moving to pavilion 4 of the fairgrounds, just opposite pavilion 5.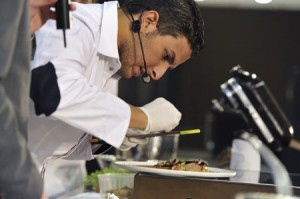 To the exhibition space the latest trends and innovations in the market for the professional sector are added to a renewed program of activities among which presents an exceptional program of lectures organized by the Spanish Fòrum Gastronòmic of Girona and Santiago. Taking the experience of kitchen congresses that the very own Jaume Von Arend and Pep Palau have already developed in Iberian lands, the proposed formula for the chocolate salon is to make pastry chefs and 'new generation' cooks interact with each other. Some names that have already been confirmed are Akrame Benallal (Akrame, France), José Ramón Castillo (Que Bo! Mexico), Sang-Hoon Degeimbre (L'air du Temps, Belgium), Oriol Balaguer (Spain), Quique Dacosta (Dacosta, Spain), Ramon Morató (Chocolate Academy) and Jordi Bordas (World Pastry Champion 2011), among many others. In a space of 200 seats under prior limited registration, these sessions will unveil these chefs' techniques, tricks and creations, as well as including numerous tastings.
Another of the highlights of this Professional Salon will undoubtedly be the final of the World Chocolate Masters, bringing together 20 finalists from around the world to fight for this prestigious prize, organized by brands Cacao Barry, Callebaut and Carma. The program is completed by the presentation of the third International Cocoa Awards, which aims to reward businesses committed to growing and processing cocoa and which have especially stood out in their work for excellence.
Of course, the general public salon will continue to be mostly in the spotlight and public interest. Countless workshops, demonstrations, lectures and shows for audiences of all ages have been programmed. As has become customary, there will be the fashion show with clothing designed by famous master chocolatiers and pastry chefs. From a professional point of view, another highlight is the celebration of the International Master of Frozen Desserts, held for the first time in this scenario for the general public.