Yann Duytsche has once again shown that he is a true panettone expert. On November 18, he was proclaimed winner of the new Italian professional competition, Miglior Panettone al Cioccolato 2017, promoted by Italian Gourmet. A competition in which he managed to overcome 14 other candidates, all Italian, by seducing a jury composed of great chefs like Luigi Biasetto, Gianluca Fusto, or Fabrizio Galla (so good #5). The second classified was Mirco Servadei, and third was Bruno Andreoletti.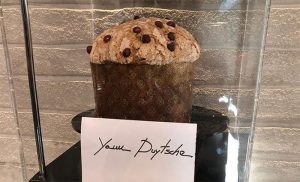 Yann is in love with doughs and natural fermentation, and probably this, in addition to his learning with Rolando Morandin, has been his main asset when it comes to getting two important titles dedicated to this sweet Christmas bread in two years: I Spain's Best Craft Panettone and I Miglior Panettone al Cioccolato.
From Grupo Vilbo we want to congratulate Yann, protagonist of our next editorial launch that will be released this coming December and in which we will gather a careful selection of his most recent pastry.