After 10 years of training in major centers and prestigious experiences in some of the best European restaurants – George Blanc, Le Bristol, The Fat Duck, Cheval Blanc-Le Trois Rois… – Spyros Pediaditakis decided that he could not keep for himself the dozens of ideas, tricks and creations he had written down in his notebook. Hence Notebook was born, a book focused on restaurant pâtisserie, with dozens of creations that take into account the creative process of this Greek professional, i.e. 'It doesn't include just recipes and techniques but plating as well.' The neat presentations, impeccable photos and dozens of step-by- steps have made the book an international success. His goal in each creation is to surprise, not only by the personal touch of the presentation but also by the intensity and gourmandise of the combination of flavors used.
The book 'Notebook' is just one more piece of Spyros Pediaditakis' activity, focused on consulting for all kinds of restaurants, pastry shops and food businesses. In each of his sessions, he helps his interlocutors to take a step back and reflect better on what makes their customers happier. In so good.. 28, this Greek chef gives us some clues about his pastry vision, previews two creations that will be part of the second volume of 'Notebook' and selects one of the great desserts that appear in his first book, based on strawberries and basil. He may not have invented anything, but Spyros Pediaditakis has developed a style of his own, elegant and committed to intense and clear flavors. Is anything else needed?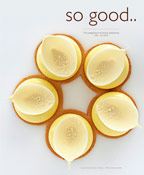 What are the main challenges that must face each of the restaurants and establishments you visit to improve their sweet offer?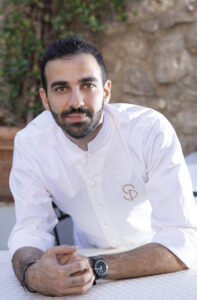 1) Be open minded, 2) Choose only the best quality ingredients and 3) Adjust themselves to the new reality after Covid-19. Sometimes it's difficult to make someone accept a different technique, a new ingredient, to change the way their team work, to listen to their customers. Sometimes business owners and staff are so busy that they don't have the time to take a step back and think what they could do to make their customers happier and cover their needs. Covid created a movement for a healthier lifestyle. People started cooking at home more than before. They were looking for new, healthier and a bit different – or I can say 'modern' – recipes. As a result, they are now looking for something special when they go out for a dinner. You can't serve them the same dessert as before. You need to be innovative, to create an excellent experience and finally fulfill their expectations. If you manage to do that then they will come back to you and most importantly they will spread the word for you.
Do you think it is important to show your own identity and culture when you develop your pastry repertoire?
I would not say that I have a specific identity or culture. I have my favorite ingredients that I use often to my creations but for me the most important thing is «progress». I love traveling and exploring new cultures, new ingredients, new tastes, flavors and textures. I love creating recipes that I have never tried before and surprise myself and my guests. I want to create a new dessert menu and receive the feedback of different people as this makes me continue my passion! Every season has different treasures. How could I follow or have just one identity?!
"I have my favorite ingredients that I use often to my creations but for me the most important thing is «progress»"
What other aspects do you keep in mind when conceiving a new cake or dessert to achieve perfection?
I always try to create something that will surprise the person who will taste it. This means a different texture or a combination of textures, a strong flavor, or an elegant aroma. I choose only the best quality products and look for ingredients that are in season in order to achieve the best result.
Why did you consider writing a book like 'Notebook'?
I wanted to create a book with all the notes I had in my personal notebook since I started my career. When I was working for restaurants, I used to create a dessert that was a piece of art for me but it was consumed in 3 minutes. I thought 'I have a treasure in my hands. Why am I not sharing my notes with other chefs?' I always share my full recipes and techniques when I demonstrate in a seminar. Sharing our knowledge and experience with others is the only way to make a step forward in the future.
"Sharing our knowledge and experience with others is the only way to make a step forward in the future"
So, what does 'Notebook' make the difference compared with the constant pastry book releases in the current days?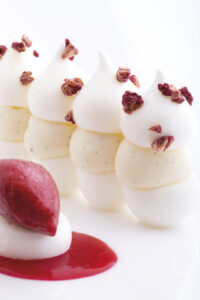 Notebook is an ultimate guide for professionals that contains more than 10 years of experience. It doesn't include just recipes and techniques but plating as well. That way a reader can discover new ways of presenting a dessert even if the techniques behind it are similar with the ones they've already known.
What are your readers saying about your book? Are you surprised by its success?
I receive many messages on Instagram and reviews on my website from different people with different knowledge and experience every single day and this is something that I love. I am curious on what others think about my book as this is the only way to become better in the future. The feedback is great so far and this makes me happy. People try my recipes and share the results with me. I am surprised with this interaction! How do you define success, really? If I think that I come from such a small country without any great pastry background, then yes, I am a bit surprised. But if I think that this book is a high level pastry guide, no I am not so surprised. I am happy with the fact that other chefs want to expand their knowledge as I do when I choose a book written by other professionals around the world.
Discover these recipes by Spyros Pediaditakis in so good #28