Cookbooks are constantly published by the dozens all over the world, but only some of them stand out because of the originality of their proposal. This is the case of Souvenirs Gourmands, signed by Philippe Conticini and written by journalist Pascale Frey, under the umbrella of La Pâtisserie des Rêves. Born from a project that started on a website (www.nossouvenirsgourmands.fr), it aims to delve into the gastronomic memories (souvenirs gourmands) of its protagonists.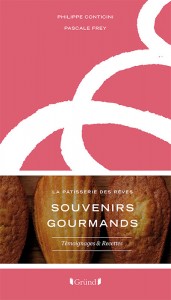 The idea was becoming stronger and already yielded a theatrical show, "À Chacun sa madeleinte", written and performed by Marc Fayet, and whose public and critical response was very positive. Now it is the book's turn, which compiles the gourmand memories of different personalities from the worlds of culture, cinema, music or even cuisine, as in the case of Alain Ducasse, Michel Guérard, and Guy Savoy.
Pascale Frey turns each person's memories into words while Philippe Conticini is in charge of turning them into pastry specialties rich in sensations and flavors which can also be made in any home. A work fraught with sensitivity and sure to become a big hit this Christmas. The book contains 50 desserts, each of them attributed to a different person. Philippe travels to his own childhood to bring back a spongy chestnut mousse.
Interview with Philippe Conticini, author of the recipes and chef at LPDR
Who did you have more difficulties creating a recipe for, and which are your favorite proposals, apart from your own marrons mousse?
The hardest for me was Phillipe Labro's cream of potimarron (Hokkaido pumpkin), vanilla and rum. This one is also one of my three favorite creations, alongside Amélie Nothomb's snow dessert and Michel Guérard's fine pear tart.
Does vanguard pastry have a look which is too sophisticated? Are you in favor of simplifying the products, ultimately making them more appealing to children?
Yes, current patisserie, although it's now in full explosion of talent, still has the tendency to let form surpass taste. Sophistication is not in itself a problem, but pastry must first be extremely delicious, understandable and addictive. For me, essence must lead to form, not the other way around. I actually prefer a dessert when it is simple and clear, and I believe that children are good indicators to judge the success of a creation. Indeed, from the moment children like a dessert, whether it's a classic or completely creative, you can conclude that it is a success.
Interview with Thierry Teysser, co-founder of La Pâtisserie des Rêves
How are people responding to the launch of the book Souvenirs Gourmands?
The reception has been excellent, everyone feels identified with the childhood stories told in the book. Whether they're happy or sad stories, all of them are emotional and appeal to our own memories.
First it was a blog, then a play, now a book. What is the next step?
We hope that the book's success allows us to create new themes around the childhood memories of our customers and finally turn them into cakes in our stores.
Childhood memories are the key to our brand and identity as La Pâtisserie des Rêves (LPDR). Before this book, even before the play, many great chefs shared their childhood memories so that Philippe could turn them into gourmand snacks, professionals the likes of Akrame, Jean Sulpice, David Toutain and Julien Duboe. We also launched a collection of white chocolate bars based on the childhood memories of 10 major global chocolatiers, including Koyama (Japan) and Vandeparre (Belgium). So we will continue to promote these collaborations since LPDR is a space of creativity for all gourmets.
In this book, you will find interesting recipes like Jeanne Olivia's cake and Natalie Dessay's Marguerite