It is not easy to find as much experience and recognition in a career as the ones found in French chef Nicolas Jordan. Born in Brittany, he began his career in Pâtisserie Lachuer in Vannes, and then spent time at the two-Michelin-starred restaurant, Laurent. In 2004 he leaves France and continues to work in several pastry shops until he meets the ice cream MOF, Christian Faure, and began teaching as a chef instructor at Le Cordon Bleu Ottawa (Canada). From there a new road into the world of competitions opened up with great results (The French Ice Sculpture Championship 2010; Frozen Desserts Open at Sirha in Lyon in 2011, gold medal with the French team at the World Pastry Championship 2013). Finally, last February he was consecrated with the title of MOF Glacier in Versailles (one of the best craftsmen in France – ice and ice cream category).
His initial interest in patisserie is heading towards ice-cream making as the MOF Glaciers Alain Chartier, Christian Faure and Jean Marc Guillot have crossed his path over the years. Pastry chef by choice and ice cream maker because of passion, he has achieved a high level in both categories.
In this creation for so good #14, the pastry and ice cream professor of the school Le Cordon Bleu Paris is inspired by the Pacific Islands and in Italy in two original frozen desserts. Jordan proposes recipes in which ice cream, in all its facets, are at the heart of his discourse.
La Perle de Tahiti
The Chef's idea in this recipe was to present a pearl set against mother of pearl, by combining numerous flavors and various textures to produce a surprising effect when the dessert is tasted. The baba, which is soaked in Tahitian Tiare rum, is topped with the pearl which encompasses several flavors: Firstly vanilla, then caramel and finally the toffee center. The pearly glaze is a delicate step as it must be faultless to ensure that it looks like a real pearl. Making the mother of pearl shell is also an extremely painstaking technique which includes cooking the sugar, molding and decorating to achieve perfect shine.
Finally, I love a well made and simple rum baba. Brittany galettes are also a favorite of mine. So simple yet so good!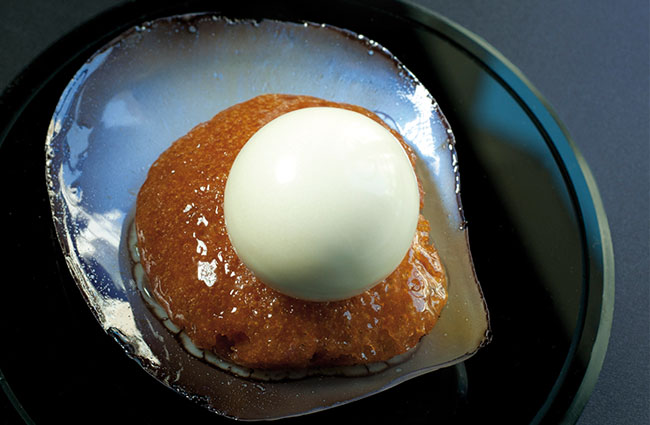 Check and enjoy La Perle de Tahiti and the other recipe inspired in Italy, La Pause Café, with step by step images, at so good #14.