Jordi Bordas has carried out intense research activity since 2011, when he won the World Pastry Cup. With an operations center in Spain (Viladecans – Barcelona), he travels all over the planet showing the benefits of his B-Concept method, a comfortable formulation system with which he is rethinking the foundations of classic pastry.Healthier products, alternative ingredients, and 100% committed to the intensity of flavor. This is his philosophy, which he explains to us below, while revealing an ingredient that, according to him, will revolutionize the formulation in pastry in the next few years: inulin.
In order to not remain in the theory and move on to the facts, we enjoyed at 19th issue three creations that highlight three of the main ingredients in pastry: fruit, chocolate, and cream. Jordi Bordas takes advantage of his role as ambassador of the prestigious brands Felchlin, Ravifruit, and Elle&Vire to find allies in interesting proposals that, depending on the case, are free of gluten or dairy products.
The possibilities of inulin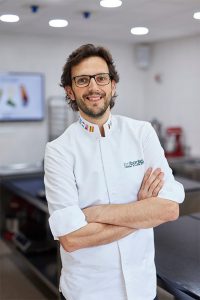 Controlling water is a priority when it comes to creating a recipe. In recipes such as crémeux, mousses or compotes, which contain watery ingredients or that require to be frozen, this water control becomes critical. With one or several crossed techniques we can control the water but depending mainly on ingredients with high dry extract such as fats or sugars. After a long process of research, the ingredient which has best adapted to the needs mentioned is inulin, a non-digestible carbohydrate consisting basically of linear chains of fructose. It is present in many vegetables, fruits and cereals. The main extraction is made from the root of chicory. Thanks to our ice cream master and friend Antonio Sirvent, we have discovered this ingredient, which represents great technical and nutritional advances in the creation of recipes. Inulin marks the future of patisserie, which, in our view, demands to be tastier, healthier and lighter.
Technically, inulin is a perfect ingredient: it is formed by almost 100% dry extract, has a great capacity for water uptake, a minimum sweetening power and adopts a texture and palatability very similar to that of fats. In addition, it provides stability during the freeze-thaw process, slightly lowers the freezing point and inhibits the growth of water crystals.
'Inulin has a neutral flavor and its sweetness is practically imperceptible, which meets all the requirements to be part of our basket of essential ingredients'
In terms of food, numerous studies indicate that inulin has great functional and nutritional
benefits, considering it a prebiotic. The energy value of inulin is about 200kcal/100g, depending on the manufacturer, which is a considerable reduction when compared to, for example, conventional sugar, which provides about 380 kcal / 100 g.
In terms of taste, in previous research of the B-Concept we noticed that certain ingredients, when used in excess, mask the flavor of the main ingredient, causing them to lose their characteristic nuances. Inulin has a neutral flavor and its sweetness is practically imperceptible, which meets all the requirements to be part of our basket of essential ingredients.
In the market, we find mainly two inulins. The hot inulin, which is pure and comes from the extraction of chicory, with 99.5% inulin in its composition and 0.5% or less of fructose, its glycemic index is 5 and has no sweetening power. It requires a minimum hydration time (approximately 20 minutes) depending on the amount of water contained or a heat process of more than 60ºC. The other inulin known under the name cold inulin is native oligofructose inulin, derived from the enzymatic hydrolysis of the previous inulin. It has a 90% concentration and 10% or less of fructose, glucose and sucrose. Its glycemic index is 14 and it has a sweetening power of 0.1. When hydrated, it disperses more easily than pure inulin, without the need for heat processing. It is the inulin that we have used in the elaborations presented in this
article.
We should mention that, in contexts with a pH lower than 4, both inulins become hydrolyzed, thus transforming into fructose and therefore losing their properties.
You will find these creations with recipes at so good #19