In recent years, great pastry chefs and cooks have focused on ice cream as a creative and commercial resource with great potential. Ice cream has not only become a profitable product to bolster the usual offer of pastry shops in summer, but also an increasing number of professionals from other sectors have taken a further step in this direction to open their own ice cream parlors. With this, ice cream gets a new creative boost and experiences unprecedented development. The result is the entry of ice cream into a new more gastronomic phase, which is producing very diverse professional examples and bringing considerable improvements to the product: a more careful presentation of ice cream, increasingly varied formats, a much broader register of artisan toppings, and the incorporation of more gastronomic ingredients and products.
One of the first to launch the incorporation of ice cream into their spring and summer menu through collections was the great Pierre Hermé. For more than a decade, he has been making ice cream versions of his best-known macarons and specialties, such as the Glace Mogador ice cream, based on the Fetish Mogador cake, the original collections of Miss Gla 'Gla ice cream sandwiches (within which Ispahan stands out), and Infinement, the assortment dedicated to ice creams and sorbets of summer flowers and fruits.
In Luxembourg, the ice cream cake has undergone an interesting aesthetic evolution by the hands of the brothers Jeff and Tom Oberweis. The well-known Relais Desserts pastry shop, Oberweis, launches new logs and ice cream cakes every Christmas and especially every summer. Jeff Oberweis has expressed a taste for perfection in ice cream in the book "Eis: Perfektion aus Leidenschaft Gebundene Ausgabe".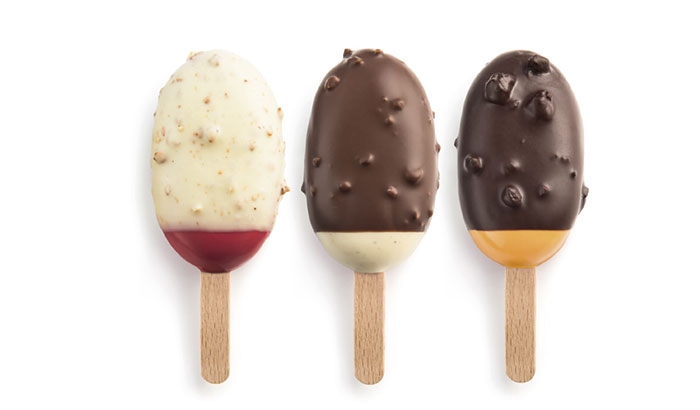 The Belgian chocolate master of Italian origin, Pierre Marcolini, bets on the elegant Ice Dream cones and goes from his customizable Esquimaux ice cream bonbons, through his line of "sugar free" sorbets. Marcolini has even made pop-up shops dedicated to ice cream in different parts of Europe with a very personal and poetic setting, inspired by summer.
In Spain we can find the fourth example of this transition from pastry to ice cream. The case of José Manuel Marcos Candela is paradigmatic. Although he began his career at the helm of Crujiente, a signature pastry shop in a small municipality of Alicante with barely 8,000 inhabitants, in 2018 Candela Gelateria opened in the same town after taking second place in the Ice Cream World Championship with the Spanish team. An establishment where the offer is open to exploring new paths in ice cream through very different presentations and in conjunction with cocktail making.