In so good # 13 Enric Rovira was one of nine masters chosen for our tribute to the city of Barcelona. We take this opportunity to focus on this controversial chocolate artist's long career beginning with his first collections. Throughout six stages and iconic products, we reproduce this path from 1994 to the present. The idea, the flavors, the format, the packaging … everything comes together in a concept in all of his proposals. Here's the first series, in which one of his most charismatic collections appears, Rajoles, inspired by the modernist tiles in Passeig de Gràcia. We continue with his vertical bars with a minimalist, perhaps even galactic, aesthetic. In the next installment we will have the opportunity to learn what inedible chocolate is or why this chocolatier considers the bean to bar trend an unwise formula to reclaim quality chocolate. Shall we begin?
0. Presentation
A great mind, 'chocolate-devoted' hands with no rivals, an artist faithful to his own ideas like few others, a chocolate revolutionary that does not support older classifications or shortcuts to achieve instant popularity.
After 20 years of a solo career under his belt, he still has in his list of triumphs products which are rabidly modern, admired, if not copied, by many. His name is Enric Rovira and we begin our conversation talking about Barcelona, the city he reclaimed in terms of chocolate, whose inspiration and much of his creative work draws from. But we won't get much further if we continue in the field of presentations. It is best to sit down, get comfortable, accompanied by hot coffee and let him revise his countless creative contributions through his most emblematic collections.
'We would never have done many things if we sought only to satisfy what the customer demands. The challenge is to have a structure, a regular demand for items listed, which is sufficient to then do what I want. If I cannot do special things there is no need to set up my own chocolate firm and might as well work for others. Anyway, I have spent so much time expressing that personal freedom that, to some extent, I feel I know too well the way to go.' These are his words, though knowing the desire to renew he has shown throughout his career, we do not rule out new and surprising proposals in the future.
1. Rajoles (1994)
Made in Barcelona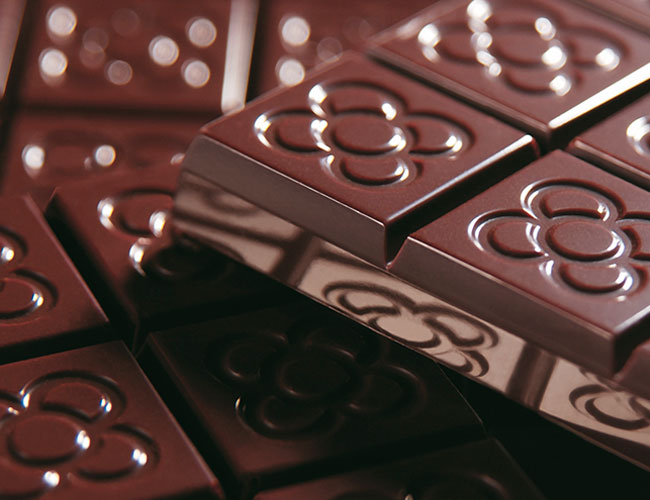 There are several aspects that unite Enric Rovira's chocolate career with Barcelona. For starters, the origin of this chocolatier is in a family-run bakery, within which he learns the bases and also connects with singular figures that opened him up to a world related to artistic chocolate. In fact, the city of Barcelona, thanks to the Easter 'mones', have gone through a technological, technical and surprisingly stylistic evolution throughout the twentieth century. Names like Lluís Santapau or Joan Giner are particularly guilty of this, in the 40s, 50s and 60s, fathers of, for example, the velvet effect in chocolate spraying. In addition, of course, of more recent figures among which we can identify Jaume Sàbat, Francesc Baixas or of the most international projection, including Antoni Escribà.
Enric Rovira feels heir to that creative and innovative spirit regarding chocolate. A spirit that explodes from a good start of his solo career in 1993. At that time, post-Olympic Barcelona had left behind a surprising transformation of the city, modernizing it and expanding its contemporary architectural repertoire. And it is that heritage in which Enric Rovira was inspired to start. And in 1994 he launched one of his most charismatic collections, 'Rajoles' ('Tiles'), inspired by Barcelona's modernist tiles characteristic of Passeig de Gràcia avenue, probably signed by the architect Puig i Cadafalch.
'Now everyone makes bars like this, but we got to have the 'registered utility model' and fought so no one would copy us. It is not only about reproducing an element of the city. The famous panots (floor tiles) by Gaudí are an unusual architectural element identified with a city. Barcelona's floors were designed by modernist architects and a large team of collaborators who were around them, something that does not happen in other cities in the world. But we not only reproduce an element of the city, but also played on the double meaning of the Catalan word 'rajola' ('chocolate bar' and 'tile'). These are elements that are lost if you transfer to other latitudes and cultures. This combination of detail is very important to us.'

2. Vertical turrons (1999-2000)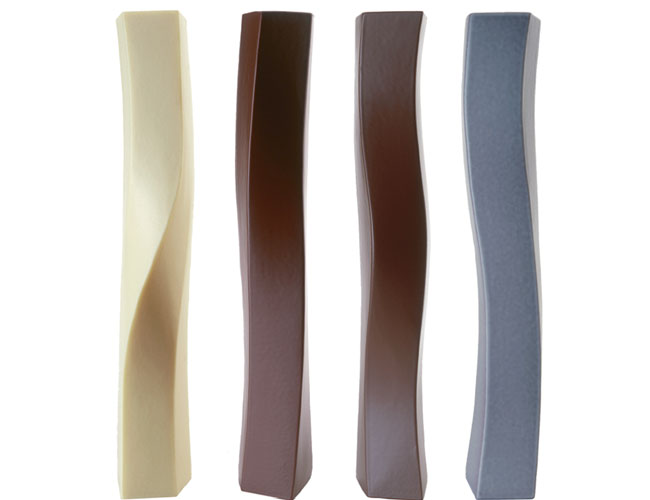 Chocolate turrons with ganache fillings were part of Enric Rovira's collections from the beginning, as one of those elements that connected the family tradition from which he came. In fact, this is one of the product lines that have continuously worked better. But soon it was Enric Rovira himself who wanted to distance himself by making products that had no resemblance to what at that time was to be found in the market.
'I evolved the classic decorated turrons and changed the aesthetics thanks to the design of a deformed, vertical bar. In that year (1999) we changed the classic bar size, we made them thinner and longer and stood them up. We offered four types: bitter, acidic, sweet and salty. And yet, we broke the barriers. We were about to enter 2000 and we were very galactic. I was very pleased with everything. We repeated this in successive years, each time more minimalist, because until then we had decorated a lot. All these elements, including changing the flavor label for a concept may seem normal now, now everyone talks about concepts, but we had already worked on that at the time, making all these aspects into a network (vertical, thin shape, basic taste) and bound to each other.'
Do you want to review his other series published in #so good 13?