Claudio Corallo, the exclusive 'Bean to Bar' that Enric Rovira tried in 2005 serves as the end of the tour though 20 years of this chocolatier's career. We take a closer look at one of his most brilliant commercial successes, the Planetarium, and his legendary Easter collections.

5. KKO. Cocoa Essence.
Claudio Corallo and Enric Rovira (2005)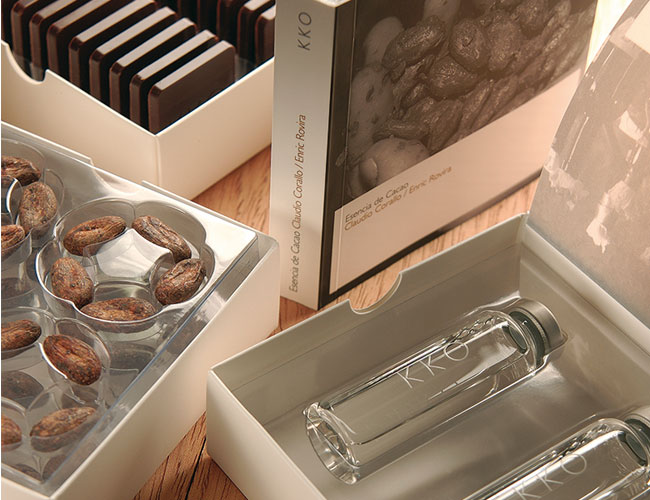 'This collection was cocoa mass, cocoa distilled drink and even a booklet and a movie that we made explaining where the product came from. It was from a plantation, 'Claudio Corallo' in Sao Thome, Principe, and we explained this source as if it were a wine, which is what makes sense to us. This cocoa was exceptional, it was roasted there and peeled by hand, nib after nib were removed carefully, leaving it clean and free of impurities. This is the reason we were able to make an unrefined chocolate, in which finding a piece of cocoa was not unpleasant, on the contrary. We did not have to conche it much because pure taste is also nice.' The problem with this product is that that chocolate was originally 25 euros per kilo, which made it impossible to sell.
The reflection of this chocolatier is strong against trends that use the terms 'Raw' or 'From bean to bar'. 'It is a terrible atrocity to think you can go to a store to purchase cocoa sacks of different origins, like someone who buys grape juices of different vineyards, then making your own sweet wine, and expecting something good to come of it. Chocolates prepared this way have very marked notes, for example an exaggerated licorice nuance, and then they sell it to you as if it were something unique in the product, when in reality it is caused by impurities that have permeated the cocoa. But if we return to the wine language, that would be barbaric. Typicality is to be controlled to achieve a balanced and meaningful result. The quality of cocoa is born on the plantation and in the subsequent treatment of fermentation. But today speculative movements have entered the cultivation of cocoa and artificially raise prices on a bad product. Only a few players in the industry are concerned about going to the plantations and doing hard work to extract the best product that then produce good chocolate. That is the real value, and that is only available to a few, and they require agronomists and specialists with extraordinary knowledge on this exceptional area.'
6. Planetarium (2001)
The brightest shining stars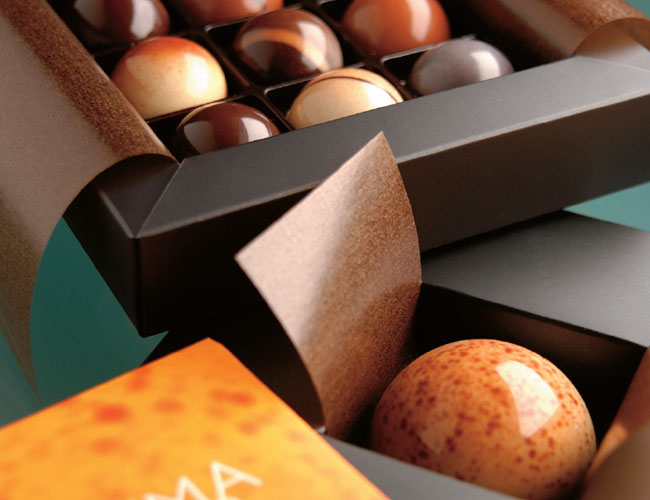 'Planetarium was a difficult to explain find and difficult to emulate hereinafter, at least in terms of commercial response and acceptance. We have made other collections with the same spirit, such as Imagine, Prohibition, CapiCua, but none of these has achieved the same interest as this one.' This is surprising especially when we discover that the story of this collection is born of an error. After making a collection for the end of the 2000 based on the 12 clock chimes, a change in the brochure's background color, from white to black, suddenly showed bonbons as if they were planets. From there, they only had to develop the idea of the solar system turned into a collection of bonbons until achieving the end result.

Easter collections
Each year a different egg
Enric Rovira set out to do a different egg each year. 'We've been making variations on the standard Easter Egg mold.' From his mythical eggs partly melted by the Sun to the most recently made with cocoa bean, many different models have been created, all marked by the originality of the concept and their perfect finishes.
Chocolat de Parfum
If a perfume is good, it works on the palate
If a perfume is good, it must be good enough to eat. This idea is Ramon Monegal's, a renowned perfumer in Barcelona with whom Enric Rovira prepared these collections based on perfume whose essential oils are adapted to a register that blends well with a certain chocolate.

Do you want to review his other series published in #so good 13?