The term controversial is not gratuitous at all in the case of Enric Rovira and his work as a chocolatier. In these two intermediate portions of his career we analyze products whose packaging underscores the mystery of what lies within (instead of providing information), and what's even more amazing, chocolate that becomes gas. This last step, in retrospect, is for Enric Rovira perhaps one of the finest moments of his career, when some wanted to see a simple provocateur without content. He himself explains.

3. Monolith (2001)
The most difficult, almost illegal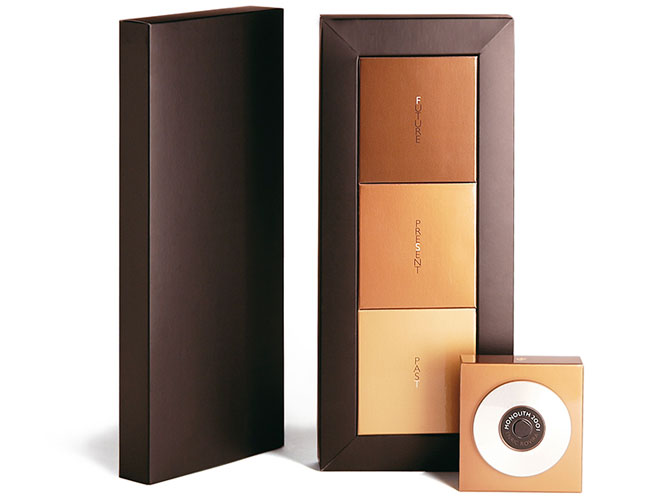 In early 2001, they broadcasted on TV the famous movie 2001 A Space Odyssey by Stanley Kubrick. Enric Rovira had never seen it before and he was hooked.
'I love that kind of film in which the pictures explain more than the dialogues themselves. I needed to do something inspired by the movie and focused on the monolith, an enigmatic element of the story that acts as a separation between the different stages. I wanted to make a product collecting this enigma, no text, no mark, it was an almost illegal product. Only a black box. Inside there were three more boxes with three chocolate products in three different gradations. They wanted to explain evolution: past, present and future. To represent the past, I made an animal bonbon, crispy bacon dipped in chocolate. It was a more primitive taste. Also, I liked reflecting how in ancient times food was preserved in salt. For the present, we sought a chocolate which oozed freshness. At the end we went for ginger with dark chocolate. For the future we thought about air with chocolate, that is to say, an airy chocolate. Everything was accompanied by a CD explaining how each bonbon was conceived and developed. At that time it was a relic. It wasn't very common to find a CD in a chocolate product. All in all it was a complicated product, because of the flavors used. It was also limited, because there are many people who are not attracted to this film. It was a personal matter, my adaptation of the story made into chocolate. Nevertheless, Monolith functioned more or less as a gift.'
Enric Rovira also highlights the difficulty designing the packaging of this product. Now it is more common to see all kinds of custom packaging, but even so, it is not as common that the professional himself designs it, orders it and handles it personally to give the final form. 'We make the product, the design, layout, photography. We do it from within and we cover it all.'
4. Virtual (2004)
Chocolate becomes gas, the misunderstood revolution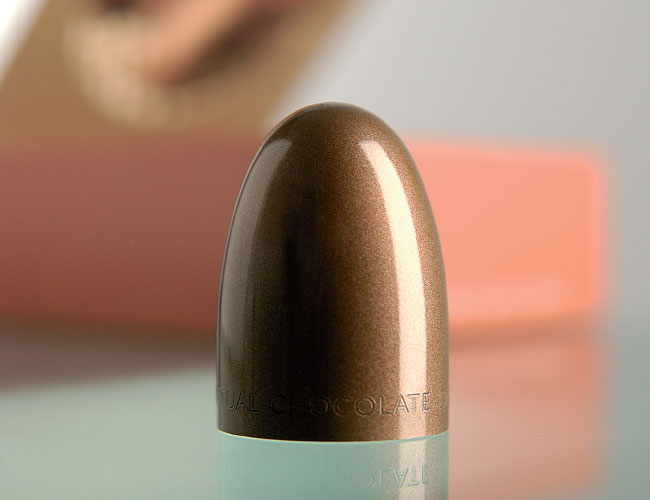 In hindsight, this is one of the most important products Enric Rovira has ever made. To describe it, he focuses primarily on the history of chocolate. It began as a drink in Mesoamerica times, it came in that form to Europe and it was not until 1848 in the UK, where it first reached its solid version. 'We in 2004 invented the gas chocolate, that is, a new way to enjoy the cocoa.' Enric Rovira is not in favor of the typical chocolate tastings at the end of a meal or when you arrive at night to your room in a hotel. He sees them as too strong. But instead he considered a more subtle way of enjoying chocolate. How? By smelling it. With the creation of odor specialist Darío Sirerol, they conceived the metal capsule shaped like a Virtual bonbon. Inside, the smell was contained by a 'mollete' with cocoa extracts and other nuances, whose expression is enhanced by transmitting the heat of your hands. The aroma given off can last from two to six years.
'We wanted each hotel to be able to customize the smell, for example with a mimosa smell or any other scent identified with the establishment. So these bonbons became a souvenir helping guests to remember their stay through the 'gas bonbon'. When we registered the product, we got a maximum level patent. It was proposed for the MOMA in New York. But we did not sell much. Apart from the price, the consumer preferred tasting the chocolate, not only smelling it. Later I even remove it from the catalog, because it identified us with an extravagance that could have prejudiced the rest of our products. This really was a revolution. We were not prepared to appreciate this at the time, and now it would probably be worse. But for me it was a great professional milestone: its functionality, design and product; I like that chocolate has reached the third state of matter.'
Do you want to review his other series published in #so good 13?