Unstoppable, virtually a book a year, Antonio Bachour will release his third book, Chocolate, this November. Like its two predecessors, the new book includes a wide range of creations including 14 entremets, 13 petit gateaux, 12 verrines, 13 plated desserts, 20 chocolate bonbons and many other elaborations that unfold over 300 pages.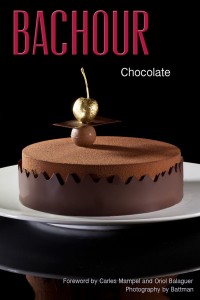 To make these creations, this chef based in Miami has relied on the collaboration of the culinary specialist Luciana Bianchi and the legendary photographer Alan Battman, who also collaborated with him in his two previous books. The result stands out for its greater zeal in the explanations of each creation, in all the tricks and details used by the chef, and illustrated with photographs that convey the passion and dedication that each creation has.
The book's prologues are written by the chefs Oriol Balaguer and Carles Mampel (so good #13) and feature an introduction by Javier Guillen. The cover has been selected by vote among the chef's fans, which is the version of the Black Forest in the form of a cake made by Bachour himself inside the book. Although the distribution of the book will not start until November, it is possible to pre-order the book this week. Antonio Bachour shared with us his satisfaction with this third book, whose presentation will practically coincide with the opening of the chef's first pastry boutique in Miami, Bachour Bakery and Bistro, of which we will have more news coming soon.