There are not only 5 ideas, but many more, which the chef and professor at the EPGB, Jose Romero, shows in his book Ideas and recipes between cuisine and pastry. But we have selected these to showcase the breadth and versatility of content that this chef expresses in this book. They are just a sample, but there are more.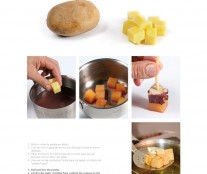 1. The step-by-step king. Potato and Galician octopus brochette
One of the elements that first jump out in this book is the large number of step-by-step instructions with which the author shows each of the techniques and developed ideas.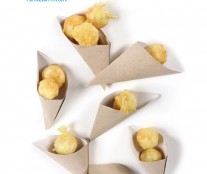 2. Tasty and popular. Parmesan fritters
One of Jose Romero's commitments is to enjoy a kitchen full of flavor and reminiscent of street food. Octopus, fritters, egg with pont-neuf stick, focaccia or croquettes stuffed with liquid foie are some of the many examples that the reader will find in this book.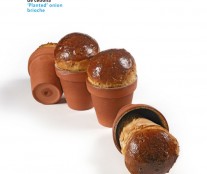 3. Savory pastries. The onion brioche
The advantage of being a chef surrounded by pastry chefs, and especially in the case of a restless persona like Jose Romero, is that you search for the way to use the techniques and typical patisserie products in your cuisine. In addition to this "planted" onion brioche, bacon carquinyolis with chocolate and bacon puff pastry (Olivier Fernandez), among others also appear in this book.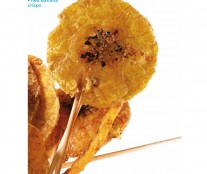 4. Latin Accents. Fried plantain chips
Jose Romero's trips to Latin America have inspired him to adapt some of the specialties there to his philosophy of simple, but tasty and elegant. Such is the case of these fried plantain chips, directly from Panama, the octopus with red devil sauce or Mexican allusions in the purple tortilla with Molcajete sauce.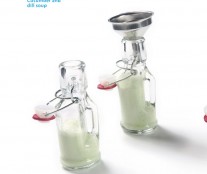 5. The most refreshing drinks. Cold cucumber and dill soup
Another of the obligatory stops of "Ideas and … "is its cold soups, starting with a tasty reinterpretation of gazpacho, flavored with beets and ending with this invigorating combination of cucumber, yogurt and dill. Drinks, and also sauces, are other favorite themes of the author. Proposals as personal as the mango mayonnaise, alongside more popular sauces that have been properly customized, like the Argentine chimichurri, Italian pesto with tomatoes or Mexican molcajete, stand out.