More than 40 years ago, Robert Linxe imagined La Maison du Chocolat as the first great Parisian house to create chocolate as if it were a haute couture house, since he says "I was very attracted to sewing, my uncle was a tailor and I had an eye for it. We were lucky to meet extraordinary people, Chanel, Dior, Balmain. I was looking at the color of the dresses. I only liked very beautiful things. I did not have the means to offer them, it was not for want, just for delicacy. Do not go see the average houses. It is always necessary to see the very high ones ".
Today, entering La Maison de Chocolat, which we talked about in detail in so good # 3, is to enter the timeless Parisian chic world. A universe that currently has 44 stores in seven countries (France, the USA, Japan, Hong Kong, Korea, Macao, and Kuwait).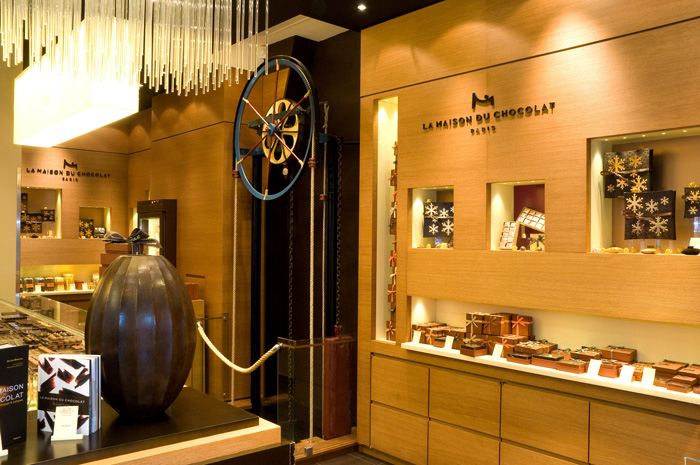 Robert Linxe, the pioneer
On October 26, 1977, Robert Linxe opened the first shop in Paris dedicated exclusively to chocolate, which he named La Maison du Chocolat. Nicknamed the "sorcerer of ganache", he aimed to encourage people to taste a pure and less sweet chocolate, free from the excess of sugar and cream.
A pioneer in making ganache the center of this work and a pioneer when he reinvented the eclair in its chocolate version, he committed himself to innovative and well-studied products which formed a solid offer, easily recognizable, and which with time gained more supporters.
Linxe died in 2014 at his home in Bayonne, although his style remains intact thanks to the talent of the chef Nicolas Cloiseau.

International expantion

The business soon began to expand with new boutiques in the capital of France, until in 1990 it took the international leap with its first shop in New York. This was only the beginning. Throughout the years, La Maison du Chocolat has been inaugurating establishments in prestigious areas in Japan, Hong Kong, Korea, Macao, and Kuwait.
Another turning point came in 2010 with its admission into the select group, Comité Colbert, an association made up of prestigious French brands that identify themselves with the philosophy of "l'Art de vivre".
Constant innovation with Nicolas Cloiseau
In 2012, La Maison du Chocolat began a new phase with the appointment of the chocolate MOF Nicolas Cloiseau as chef. Known for his attention to detail with chocolate, he breaks from the usual formats and codes to find lighter textures and new sensations with emotion as the only guide. Innovative collections such as "Bien-Être" have come out of his hands, presenting chocolate in a 100% vegan version, without cream or butter.


100% handmade
One of the keys of this Maison is that in the workshop in Nanterre, near Paris, all the chocolates are made by hand in small quantities (from 30 to 50 kilos) so as not to distort the recipe. They are judged and evaluated one by one, paying special attention to details such as the fineness of the coating, brightness, and regularity.
Among its iconic products, we find the signature coffret, created in 1997 on the occasion of the 20th anniversary, the pralines and, of course, their natural and aromatic ganaches.