Yun Eunyoung, who runs the popular Garuharu brand and school in Seoul, continues to expand her collection of monographic books (Decoration, Tarte and Éclair). The fourth volume, Travel Cake, is dedicated to the travel cake and contains as many as 41 recipes with step-by-step photos and a detailed description of the manufacturing process. Recipes for cakes, cannelés, cupcakes, financiers, cookies, Florentines… with authentic taste, non-monotonous textures, and simple and elegant designs that highlight the product.

Available in a bilingual version (English & Korean) at our Books For Chefs online bookstore, it also includes gluten-free, nut-free, and egg-free proposals that reflect the needs of today's consumers and gives ideas on how to use alternative ingredients without losing sweetness or texture.

Pound cakes, cakes, financiers, madeleines, Florentines, canneles, and cookies

In her list of recipes, we find a wide variety of preparations, with which Eunyoung hopes to inspire. "Please make a variety of attempts with ingredients available near you using the recipes in this book. I always contemplate the combination of existing products and new ingredients on my workstation, I hope these thoughts and new attempts will continue in your studio".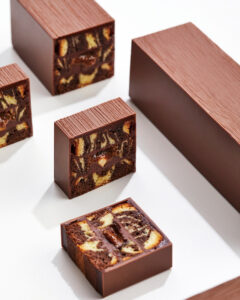 First, the chef proposes five pound cakes: marble, matcha, mont blanc, yuja, and fig. To make her work easier, she also details the exact measurements of the mold where she presents them.

She continues with cakes of many kinds. There are those that combine fruit with nuts (pistachio & grapefruit) and vegetables (carrot & orange), some that propose a tea flavor (earl grey) and even trompe l'oeil (coffee bean, chestnut, cocoa).

In the financier section we find the step-by-step instructions of four flavors (caramel pecan, chocolate&raspberry, pistachio&orange and blue cheese). In madeleines, four other proposals (smoked vanilla, apple crumble, kaffir lime & basil, and raspberry), as well as in canneles (burnt vanilla, roasted corn, basil&raspberry and orange&ginger) and in florentines (berry berry monaka, salted monaka, sesame monaka, and coconut monaka).

The section dedicated to cookies is the widest and most heterogeneous. The reader can discover from 100% chocolate cookies to vegan nuts or vegan coconut, and spicy sand cookies.

It is not just a simple collection of recipes

Apart from the recipes, Travel Cake also dedicates a large section to preparation, with interesting tips that cover different topics (ingredients, butter, sugar, baking powder and baking soda, ingredients for gluten-free recipes, tools, pound cake mold, and convection oven and deck oven). Additionally, she details the step-by-step instructions of three basics: 30ºB (Baume) syrup, gelatin mass,and chocolate tempering. As the popular Korean chef explains, "this book is not just a collection of recipes, but also reflects a lot of trials and errors that we have experienced along the way, and tried to cover the points and tips we've learned, including how to use tools, as well as ways to minimize frequent mistakes during the process of making. I also tried to capture the results of inspirations from the talented chefs we've met from various cultures and new ingredients we came across while conducting the overseas master classes".