Due to the overwhelming response to the recent publication of the book, "Evolution", The Grupo Vilbo has decided to publish a second edition. At the time of its first publication, its success came as a surprise to many, due to its specialised focus in an area of workshop pastry cooking that is not well known and because it seemed to fill a very important gap in the world of pastry publishing.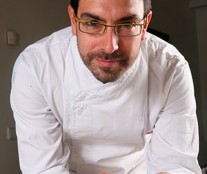 Evolution. Techniques and ingredients for modern pastry, brings together all the immense experience and multi-faceted professionalism of Jordi Puigvert. The content of the work not only reflects the prowess of this pastry chef as a technician in the research of new applications for ingredients, but also provides explanations that are faithful to the pedagogical approach he adopts as a teacher at the Institut Escola d'Hostaleria i Turisme de Girona (School of Catering in Girona), the Chocolate Academy and the Escuela de Pastelería de Barcelona (Pastry School of Barcelona).
Evolution is stuffed full of interesting technical applications accompanied by step-by-step illustrations. Using simple creative processes with equipment that is common to every workshop helps to breakthrough some technical barriers imposed by the more conventional approaches to pastry in processes of elaboration, conservation, textures and structures of components such as merengue, mousses, creams and fruit gelatins.