With the help of close collaborators of a great professional solvency, Arte Heladero and So Good Magazine present Ice Cream, a compilation of 245 recipes from recent years, arranged alphabetically and divided into 13 families. Around 82 ice cream makers, pastry chefs, and chefs from a dozen nationalities contribute an extensive range of creations. They are gathered in families as different as white creams, egg yolk creams, cocoa and chocolate ice creams, nut ice creams, fruit creams, fruit sorbets, spice and aromatic herb creams and sorbets, liquor creams and sorbets, frozen creams, savory ice creams and sorbets, soft serve ice cream, cold drinks, and complements.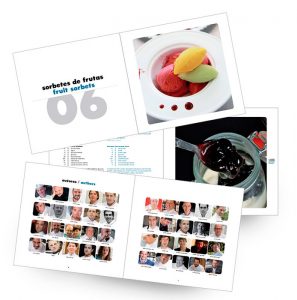 Arte Heladero and so good magazine have become spaces open to very different ways of approaching ice cream, from those that come from the ice cream tradition, to pastry and restauration. Ice cream is the common denominator of authors who have a lot to say and show. Thanks to this multiplicity of ways of understanding the formulation and the contexts in which it can be used, recipes are enriched with information on presentation formats and serving temperature. Essential information to know, whether you are talking about the display case in an ice cream shop, an ice cream cake, an individual, or a dessert, among other ways.
Published in a bilingual edition, Ice Cream is an ideal tool to combine all kinds of components. By combining recipes from different families, you can customize, for example, a chocolate ice cream with varied marblings, inlays, cakes, and a host of preparations and decorations that give differential value to the tub, dessert, cup, ice cream bonbon, an ice cream cake, among others. A good starting point for the professional to make their own creations and adapt it to their needs.