Coca de Forner (baker's sweet bread) forming and flattening, the true bread videos (4 of 6)
January 4, 2022
The True Bread Videos:
Coca de Forner (baker's sweet bread) forming and flattening
The "Coca de forner" (Baker's sweet bread) is one of those yummy doughs whose main secrets are working with a high hydrated dough and an excellent extra virgin olive oil. Baker Joaquín Llarás, the author of "True Bread", shows how to form and flatten this dough while adding olive oil and sugar just before being baked.
It is the fourth video in the series that accompanies his book and the ideal complement to all recipes. The manual has not only become a benchmark in professional bread making, written in English and Spanish, but has also recently reached its second edition.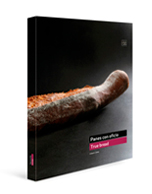 Next video
This is the most recent video.