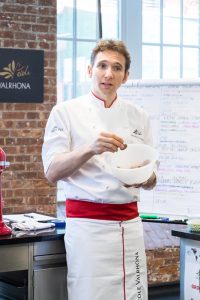 One of the last figures to pass through the classrooms of the L'École Valrhona Brooklyn has been Nicolas Botomisy, Valrhona Corporate Pastry Chef North America, who has deployed his talent in developing plated desserts with French style and an Asian twist.
Attendees have been able, among other things, to practice techniques such as tempering or ganache, learn the creation process of the components behind each plated dessert, and discover new approaches to achieve specific textual effects.
In order to share his creative philosophy in the plating of desserts of this chef linked to Valrhona, creations like this Oriado Grapefruit show the display of several elements in which the personality of a chocolate of origin comes into action with the citrus freshness of grapefruit and the balance of a cream (custard) infused with Mexican vanilla.
Photos: Alex Ayer Photography

Oriado Grapefruit Mexican Vanilla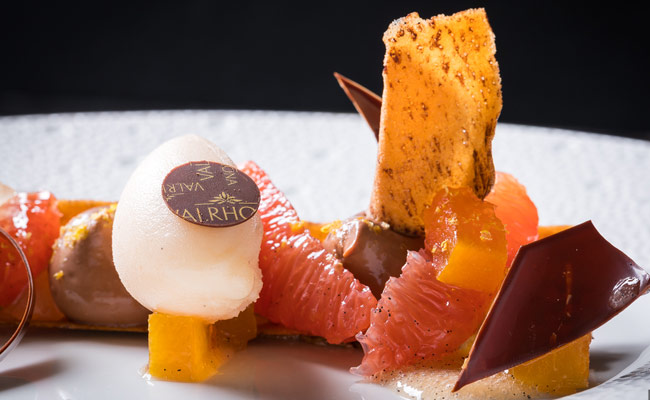 candied pink grapefruit
AN fine sea salt
400 g water
400 g sugar
400 g pink grapefruit
Wash and carefully brush the grapefruits.
Peel grapefruits with a thin knife, making sure to only cut a thin layer of the white skin.
Simmer these grapefruit skins in water for about 10 minutes. Drain and repeat this process twice. Then, cover with 1000 g of water and add 250 g of sugar per litre of water. Leave to simmer for about 15 minutes. Add another 250 g of sugar and renew the operation until 1 kg of sugar is mixed with 1L of water. Candying the slices like this will make the skins nearly transparent and most importantly very tender.
Set aside and store in the fridge. Drain before use.
---
grapefruit vanilla sherbet
40 g milk powder
1 ea Tahitian vanilla bean (scraped)
450 g water
120 g powdered glucose (bloomed)
480 g sugar
10 g sorbet stabilizer
1000 g grapefruit juice
Infuse the scraped vanilla bean in the boiled water for about 10 minutes.
Take a little amount of the sugar, about 10% and stir well with the sherbet stabilizer; at 30°C (86°F) add the remaining sugar and powdered glucose.
At 45°C (113°F) add the sugar-stabilizer mixture.
Pasteurize the whole thing at 85°C (185°F) for 2 minutes then cool the mixture down quickly to 4°C (39°F).
Mix with the grapefruit juice.
Leave to maturate the mix for at least 4 hours at 4°C (39°F).
Put into an ice cream machine and store at -15°C (5°F) until service.
---
grapefruit soft jelly
55 g Absolu Cristal Neutral Glaze
3 g grapefruit zest
210 g grapefruit juice
12 g powdered gelatin (bloomed)
60 g water
Process together the grapefruit juice, the zests and the Absolu Cristal.
Bloom the gelatin with the water.
Take a little amount of the grapefruit juice mixed with the Absolu Cristal and heat it with the gelatin.
Once the gelatin is melted process the mixture again.
Set aside in the refrigerator until the gelatin starts to set.
---
cigarette dough
8 g vanilla extract
168 g egg white
160 g pastry flour
160 g confectioner's sugar
160 g butter
Blend all ingredients together while cold.
---
basic custard cream
160 g egg yolks
400 g whipping cream
400 g milk
80 g sugar
Bring the cream to a boil with the milk and pour the mixture over the egg yolks, previously mixed (but not beaten) with the sugar.
Cook the mixture at 82/84°C (180/183°F) until it coats the back of a spoon.
Strain through a wire chinois and use immediately, or cool rapidly and set aside in a refrigerator.
---
grapefruit oriado crémeux
850 g basic custard cream
20 g invert sugar
5 g grapefruit zest
460 g Oriado 60% couverture
200 g grapefruit juice
After straining the hot custard, add the hot grapefruit juice and invert sugar.
Gradually pour over the chopped ORIADO 60% couverture, stirring with a rubber spatula (as for a ganache) so as to obtain a smooth, shiny and elastic texture. Finish with an immersion blender, taking care not to introduce air and working at a temperature above 35°C (95°F) (45°C [113°F] maximum). This method ensures that the creamy texture remains supple even after freezing and thawing.
---
Assembly and finishing
AN crunchy 50% almond/hazelnut praline
Put all the components in a harmonic way on the plate.