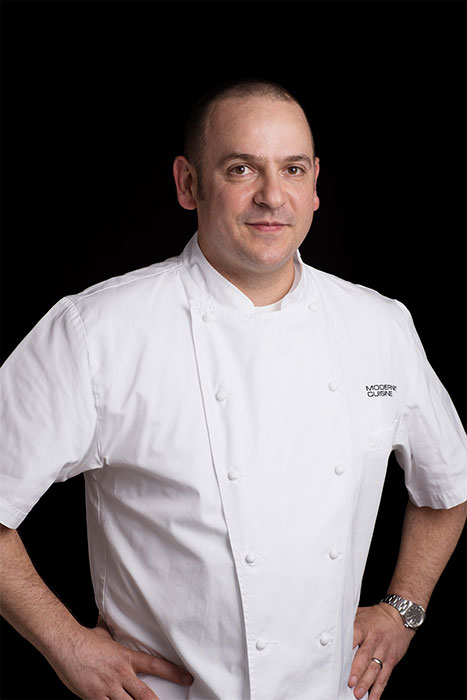 Everything that has to do with Modernist Cuisine is already synonymous with innovation and admiration, especially since they presented their work par excellence on the science of cuisine. But now they are back in the spotlight thanks to pastry chef Francisco Migoya's (so good #5, so good #6)  ongoing, year-long work within his team. With him they are preparing a very ambitious work that will study bread and which is scheduled for spring 2017. Such a project is so engrossing that the Mexican chef confesses using the creation of new desserts as a kind of 'pastry therapy'. A therapy that is far from negligible, with the creative stamp of this great chef and in which there is no shortage of all kinds of innovations, personal designs, and subtle tributes to childhood products, or to favorite flavor combinations. Do not miss his oeufs à la neige, where chef Francisco Migoya proposes an interesting false meringue, less sweet and more stable than the original.
Aloe was a plant that my mother would use to treat minor cuts and sunburns when we were kids. But its texture is very much like cactus (nopal), which is widely used in Mexican cuisine. I first thought about using this because it reminded me of a gel I made with gellan gum, which was clear as water but could be stained with fruit juices easily. So this is a gel form nature, almost as clear as water and very easy to flavor with pretty much anything. The important part is to remove the sliminess, which can be accomplished by soaking the aloe in baking soda or in an ingredient called tequesquite which is an alkaline salt that helps remove the sliminess. Kalamansi is one of my favorite flavors and it doesn't need much more. I do, however, like pairing sharp acidic flavors such as this with sweet, nutty flavors, which is why it had a hazelnut praline crust.
Hibiscus stained aloe with kalamansi sorbet and hazelnut praliné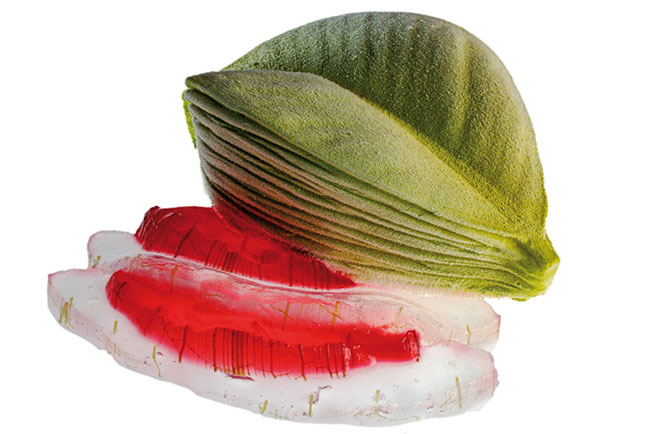 hibiscus poached aloe
1 p aloe leaf
10 g baking soda (or tequesquite*)
Peel the outer shell off of the aloe using a vegetable peeler. Rinse the aloe in cold water for five minutes. Soak it in cold water; dissolve the baking soda or tequesquite in the water. Allow to soak for 12-16 hours in refrigeration. After this time, rinse again in cold water and return to refrigeration.
*Tequesquite is an alkaline rock made up of baking soda, common salt, potassium carbonate, sodium sulfate and clay. Some people in Mexico use it as seasoning for food but it serves this de-sliming purpose too.
---
sable dough
60 g all-purpose flour
140 g cake flour
95 g butter (room temperature, soft)
2 g salt
70 g powdered sugar, sifted
15 g almond flour
40 g eggs (room temperature)
Sift the flours. Cream the butter, salt, powdered sugar, and almond flour in an electric mixer using a paddle attachment until smooth. Add eggs in stages (for this small amount add it all at once). Add the sifted flours in two stages on low speed; mix to form a homogenous mass. Roll the dough out to 3 mm thick. Bake at 160°C/320°F until golden brown (about 5-7 minutes). Cool down to room temperature, then grind in a robot coupe until you obtain fine crumbs.
---
hazelnut praliné crust
250 g sable crumbs
150 g hazelnut praline
70 g melted clarified butter
Combine all of the ingredients in a bowl to form a homogenous mass. Roll the dough out to 2 mm between two sheets of parchment paper using a rolling pin. Freeze. Once hard, use a 1.5 inch /3.25 cm long oval ring cutter to cut into ovals. Reserve frozen.
---
kalamansi sorbet
225 g sugar
45 g glucose powder
5 g sorbet stabilizer
450 g water
270 g kalamansi powder
6 g invert sugar (Trimoline)
Brush the interior of the molds with a thin layer of melted white chocolate. Freeze the molds.
Combine the sugar with the glucose powder and the sorbet stabilizer in a bowl. Heat the water in a sauce pot over medium-high heat. When it reaches 45 to 50°C/ 113-122°F, pour in the dry ingredients using a whisk. While stirring, bring the mixture up to 85°C/185°F. Cool down over an ice bath. Allow to age for 3 hours in refrigeration.
Stir into the kalamansi pure along with the invert sugar. Make sure it dissolves completely. Churn in a batch freezer.
Pipe into the frozen leaf molds. Even out the top of the mold using an offset spatula. Place a frozen praline crust oval at the base and push in very gently. Freeze to harden. Once hard, remove the sorbet from the mold. Coat with green cocoa butter using an airbrush. Reserve frozen and well covered.
---
Assembly
Slice both aloes (the one that was short-term stained and the one that was stained for 24 hours in the hibiscus) to 2 mm thick. Place two of each on a plate.
Place the kalamansi sorbet on the plate. Allow it to temper for four or five minutes before serving it so it isn't too hard.
---
You will also find this two recipes in so good #16