Francisco Migoya, head chef at Modernist Cuisine and co-author of the spectacular Modernist Bread, has a restless mind that allows him to produce surprising and creative pieces with impeccable technique, which serve as inspiration for many professionals.
A good example of his enormous inventiveness are these doughnut ganache cookies. The idea, he explains, "is based on a nougat that I made in my Hudson Chocolates chocolate shop. For a while, I used doughnut cake to make ganaches (cream + chocolate + biscuits) and the result was very good because as it barely uses wheat flour, you can make a very smooth and creamy puree with them, especially with those that are high in fat".
In this case, he has chosen to make doughnuts based on doughnut cake, instead of brioche-type dough. "The important thing," he underlines, "is to use store bought cake doughnuts because it's the only way to get the taste point of reference I'm going for." Likewise, the sablé dough is baked on a savarin mold to give it shape since "if two savarin molds are put together, you achieve a very similar appearance to doughnuts." To achieve different flavors, Migoya offers three options: without filling, filled with raspberry jam and covered with a mixture of freeze-dried raspberry powder and sugar, and filled with black currant jam and covered with freeze-dried black currant powder and sugar.
Doughnut Ganache cookies
Doughnut ganache
115 g cake doughnuts, store bough preferably for flavor point of reference
250 g heavy cream
30 g sugar
1 g salt
1 g cinnamon powder
500 g caramelized white chocolate
Break doughnuts into heavy cream and allow to soak for 30 minutes with the sugar, salt and cinnamon. Bring to a boil while blending with hand held blender. Once boiling, add the chocolate and continue to blend until smooth. Pour into piping bag fitted with a plain piping tip and allow to cool completely before piping into the cookies.
---
Cinnamon sablé dough for the doughnut shaped cookies
340 g butter, soft, room temperature
5 g fine salt
280 g powdered sugar, sifted
100 g almond flour
20 g cinnamon, finely ground
150 g eggs, room temperature
200 g all-purpose flour, sifted
500 g cake flour, sifted
Cream butter, salt, powdered sugar, almond flour and cinnamon until homogenous. Add eggs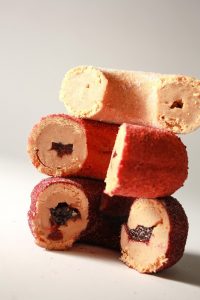 in three additions (scrape the bowl after the last addition and mix for a few seconds longer). Add flours and mix until just homogenous. Divide in two; place each half over a sheet of plastic acetate and then place another plastic sheet on top of it. Sheet to 3mm thick. Chill in a freezer until firm. Meanwhile coat the backs of metallic savarin ring molds with a thin layer of spray oil. Cut dough using a doughnut cutter and place it directly over the back of the savarin mold, making sure they are perfectly centered. Bake in a convection oven at full fan speed at 175°C/350°F for 20-25 minutes or until golden brown. Once baked allow them to cool down slightly and take them off the savarin mold. Once cool if the base is uneven, use a microplane to smooth it out. Reserve at room temperature in an airtight container for up to four days or freeze for long term storage.
---
Montage
Fill two cookies with the doughnut ganache (you can pipe a jam or jelly at the center of each) then attach them to each other. Coat the assembled cookie with a very thin layer of nappage (brush on rub onto the cookie with your fingers… wear gloves!) and then coat in plain sugar, vanilla sugar, cinnamon sugar, freeze dried raspberry powder (or any other freeze dried fruit powder) and sugar.