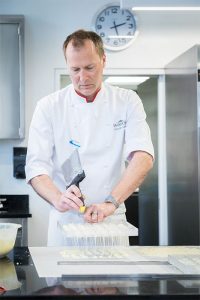 On April 4 and 5, Lincoln Carson was at L'École Valrhona Brooklyn  sharing his knowledge on plated desserts.
The owner of Lincoln Heavy Industries not only taught advanced techniques such as sous vide and plating with an emphasis on balance, seasonality and texture, but also revealed everything that inspires him to make his creations.
The attendees were able to practice tempering, ganache, mousse formulation, ice creams, sorbets, sponges, meringues, sauces and choux, prepare all the components and finish plating for a multicourse dessert tasting experience, and watch how Carson creates elegant dishes like the Illanka abstract step by step, whose complete recipe we share below.
Photos: Alexandre Ayer
Illanka abstract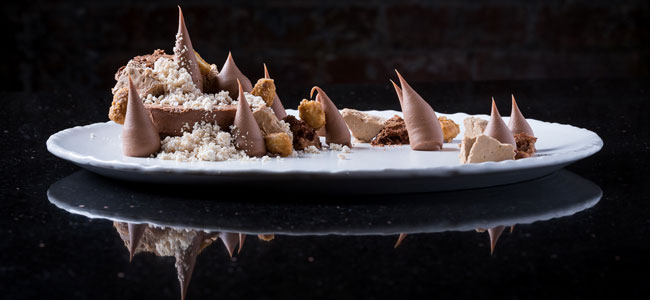 supple Illanka cake
340 g Illanka Chocolate
225 g butter
285 g sugar
285 g eggs
115 g Bonal Gentian
20 g AP flour
Melt chocolate to 45C.
Gently melt butter, keep emulsified during this process.
Combine the chocolate and butter.
Combine eggs and sugar.
Add chocolate mixture to the eggs/ sugar.
Add Bonal vermouth.
Add flour.
Bake at 315F in a lined half sheet pan until just set.
---
Illanka mousse
360 g Illanka chocolate
450 g cream, whipped to full volume
260 g cream
345 g milk
105 g yolks
55 g sugar
Create a custard base by bringing sugar, milk and cream to a scald.
Utilizing an immersion blender quickly pour the hot liquid into the yolks and blend to create custard. Return to the heat if it is necessary to thicken custard further.
Scale out 385 of finished custard base.
Emulsify the scaled custard base into the previously melted chocolate to create a ganache.
Fold the whipped cream into the ganache base (which should be at 45C) in four stages, taking care to maintain as much volume as possible.
---
peanut praline
400 g sugar
230 g water
500 peanuts, raw
Combine water and sugar and cook to 236F. Add peanuts, cook while stirring to encourage crystallization. Lower heat, melt the crystallized sugar, caramelizing and coating nuts completely.
---
peanut powder
280 g peanut butter
80 g tapioca maltodextrin
1 g salt
Combine all ingredients in a robot coupe and pulse until powder forms.
Take care not to over blend to the point where the powder becomes a solid mass.
---
peanut butter cremeaux
300 g smooth peanut butter
300 g milk
20 g glucose syrup
4 eg gold gelatin leaves
495 g Valrhona Bahibe
600 g heavy cream
Melt the chocolate to 110F gently.
Simultaneously bring the milk and glucose to a scald.
Add the bloomed gelatin to the milk.
Strain and add the milk in stages to the chocolate, emulsifying with a rubber spatula to obtain a smooth texture. Finish with a hand blender.
Add the peanut butter and blend.
Add the cream and blend.
Allow to crystallize overnight in refrigerator.
---
peanut butter ganache
625 g smooth peanut butter
200 g Bahibe
125 g cocoa butter
100 g feulletine
Mix peanut butter on low speed until smooth.
Melt chocolate and cocoa butter together.
Add chocolate to the peanut butter and mix thoroughly.
Chill mixture while whipping with whisk attachment (or alternately use Liquid Nitrogen after adding feulletine)
Fold in feulletine.
Pour onto a silpat-lined half sheet pan.
Allow to crystallize in refrigerator then break into small pieces.
---
crunchy mousse
150 g cold water
5 g Methocel F50
150 g Illanka
80 g milk
150 g egg whites
30 sugar
155 Methocel mix
45 sugar
Using a vitaprep, shear the methocel into the water on high speed for 30 seconds.
Allow to hydrate for one hour and up to one day in refrigerator.
Whip the methocel and 45g sugar in a mixer on high speed until full volume.
Emulsify the milk into the melted chocolate, and set aside.
Whip the whites on medium speed and add the 30g of sugar when they begin to froth. Whip to soft peaks.
Fold the meringue into the ganache and then fold the methocel into this.
Spread on lightly greased acetate and dehydrate overnight until crunchy.
---
Finishing
Set Illanka mousse on supple cake and allow to set completely before cutting to desired shape.
Using a plain pastry tip, pipe cremeaux as desired.
Garnish with remaining ingredients.