This minicake by EPGB, included in Play book, has a clear, evident, romantic allusion, and not only because of the hearts that garnish it. The truth is that this piece has been conceived to be shared. Therefore, although its size clearly exceeds the expected one for an individual piece, it has to be split into two portions, one for each in the couple. And a surprise is also included, in the shape of a liquid strawberry and vinegar filling.
Cuore minicake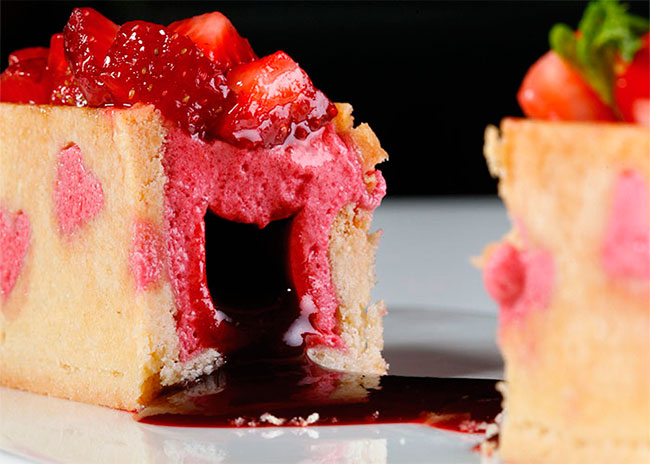 pâte sablé
250 g T45 flour
85 g almond powder
6 g salt
38 g confectioners' sugar
1 large whole egg
Mix all the solid ingredients, sifted together, in the bowl of a mixer fitted with a paddle and add the chilled butter dice.
Beat to a sandy texture.
Beat in the egg and finish kneading by hand.
Roll out to 4 mm on a 60×40-cm sheet pan with parchment paper. Keep in refrigerator.
With the help of a heart-shaped mold or cutter, cut small hearts out of the dough.
Line a rectangular mold (14×3.5×4 cm) with this dough.
Bake the dough at 180ºC for 25 minutes, vents open.
Unmold and cool.
---
strawberry and vinegar filling

250 g vinegar
125 g strawberry
Reduce separately – vinegar should acquire a thick texture, and strawberry should reduce to 50%. Combine both and freeze in a 13.5x2x1.5-cm silicone mold.
---
strawberry mousse
This recipe is in the book Play.

---
Montage
Wrap the sablé rectangle in plastic wrap to prevent the filling from leaking through the heart-shaped holes.
Make a whole in the upper part in order to fill with the mousse with the help of a piping bag.
Half fill, carefully place the frozen filling and continue to fill with the mousse. Smooth out, chill and garnish with strawberries and neutral gelatin.