In the spring, the tastiest and most delicate varieties of beet are obtained. That very delicate taste is the same that one can find in this singular dessert by Jordi Roca, pastry chef at Celler de Can Roca (Girona, Spain), included in so good.. magazine #4.
Beet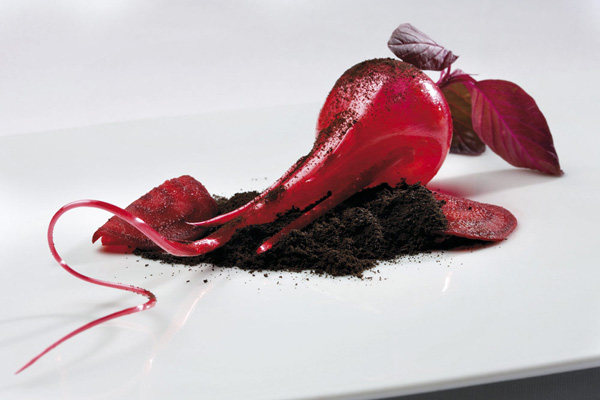 beet
1 beet
distilled earth
blown sugar
1000 isomalt sugar
10 g water
40 drops citric acid
Place the sugar in a saucepan and heat up to 180ºC. Remove from the heat and add the water, citric acid and red food coloring. Leave to sit for a few minutes and roll out the caramel on a silicone mat. Heat a small amount under the heat lamp and knead some 20 times until satiny.
Make small balls of a similar size while still warm, and very gently blow them with the help of a caramel pump in order to give them the shape of beet.
Make a small hole so that they can be filled later. Store in a dry place.
---
beet foam
500 g beet purée
200 g pasteurized egg white
5 g salt
Boil the beet until tender and process until a smooth, lump-free purée is obtained. Leave to cool. Combine with the egg white and salt.
Place in a whipper and keep aside.
---
cocoa meringue
200 g pasteurized egg white
20 g cocoa powder
10 g squid ink
Whisk the egg white together with a pinch of salt until stiff. Slowly fold in the sifted cocoa powder and the squid ink. Spread out the mixture well on a silicone sheet and leave to dry for 24 hours. Once it is completely dry, grind and store covered in a container.
---
distilled earth
100 g distilled earth
0.5 g xanthan gum
Combine the distilled earth and the xanthan gum and beat with a hand blender until acquiring a dense texture. Leave to sit so that it loses the excess air.
---
presentation
Place a spoonful of distilled earth on the ground, dry meringue. Fill the beet with the foam and place on the meringue earth. Finish by laying a beet sprout as well as some raw beet.

Jordi Roca, is already one of the maximum references in restaurant patisserie in Spain (El Celler de Can Roca), with proposals that are both impossible and provocative, both irreverent and permeable to the collaboration with other fields, which is the case of perfumery.
El Celler de Can Roca / www.cellercanroca.com