Callebaut has just launched NXT, 100% plant-based dark and milky tasting chocolates, without traces of dairy, but with the same flavor as traditional chocolate.
"It took Callebaut experts and R&D teams three years to bring this unique innovation to life. What makes it even more special is that the whole concept is being fueled not only by our R&D team, but even more by passionate chefs and artisans. Creating vegan, plant-based and dairy-free recipes stirs up all the know-how chefs have been applying for generations. For many, it's like starting over", says Xuan-Lai Huynh – Global Brand Leader of Callebaut
Unlike vegan chocolates, the NXT range does not contain any trace of dairy. To achieve the creamy mouthfeel and taste, Callebaut extracts a 100% vegetable milk-alternative from the chufa plant which is very respectful of the environment. Compared to cow's milk, chufa milk has considerably lower carbon emissions: 0.3 CO2e/kg compared to 10.68 CO2e/kg for skimmed milk powder.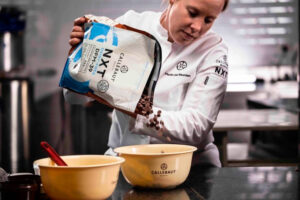 NXT chocolates are also Cocoa Horizons certified, which focuses on improving farmer livelihoods, sustainable cocoa practices and eliminating child labor from the supply chain.
To help chefs and artisans, Callebaut is also launching its NXT online platform, offering knowledge, guides, inspiration, tips, and proven recipes. Regarding this platform, Marike Van Beurden, Vegan Pastry Consultant, believes that it "offers accessible solutions, helping chefs and artisans understand basics through education. For example: how to create a vegan chocolate mousse? How to make a dairy-free chocolate macaron? It inspires them to create beautiful, delicious delights that are better for us and for our planet with our best chocolate. We want the platform to be the kickstart of a movement, helping chefs and artisans navigate the demand for healthy indulgence through breakthrough innovations."