To reward the winners of the 2022 edition of "Le Meilleur Pâtissier – Les Professionnels", the pastry chef Pierre Hermé -judge of the competition- and the M6 ​​production team have offered them the performance of one of the emblematic creations of Maison Pierre Hermé Paris. "Giving two talented young pastry chefs the opportunity to exhibit their work to the general public seemed to me to be a fine example of sharing and transmission. I gave them the opportunity to choose a dessert from our collections, the objective being that they reinterpret it according to their sensibility", says Hermé.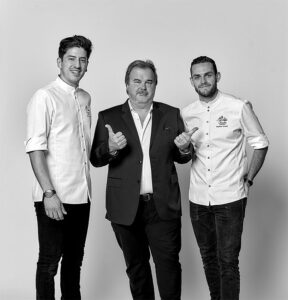 The winners Baptiste Sirand and Jérémy Aspa, both former pastry chefs at the École Valrhona, had a clear choice: Miraflorès, a combination of pink berries, mango, and strawberry. From then on, the exchanges with Hermé and his teams began to work on every detail and adapt the recipes to the limitations of a daily reproducible production. The end result is a crispy pressed shortbread with marked biscuity notes, on which the fruits, mangoes and strawberries, are worked into fragrant and juicy marmalades, rich in fruit pieces. The whole is coated with a silky ganache infused with pink berries, whose slightly resinous notes and fragrance underline the fruity flavors of this dessert.
"We immediately agreed on the choice of the entremets working at Valrhona, we wanted a challenge other than chocolate, so we chose a fruit combination. We are grateful for the chance we were given by this unique collaboration. Every self-respecting pastry chef dreams of it! We learned a lot, we appreciated the freedom of creation that was offered to us and these exchanges with the one who represents the excellence of French pastry", explains Aspa.